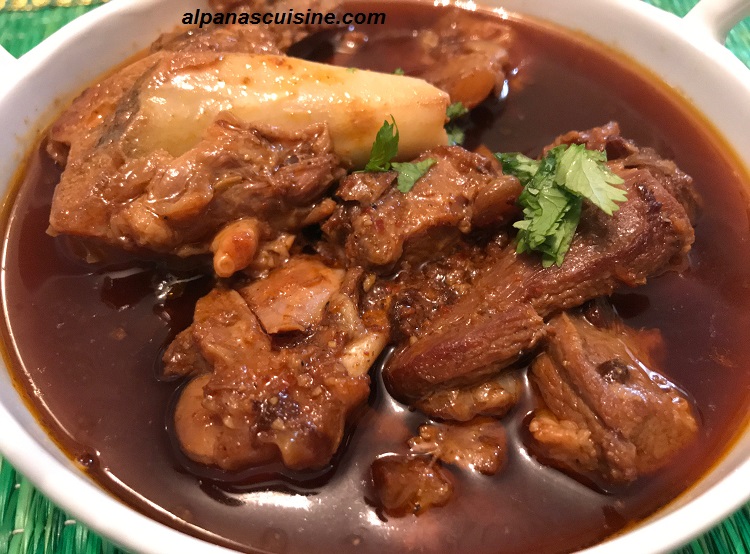 Mutton Rogan Josh
Rogan josh is a staple of Kashmiri cuisine and is one of the main dishes of the Kashmiri multi-course meal. It is a  spicy lamb curry packed with the delicious flavours of mutton . This curry comes with a layer of oil floating on top and has a rich red colour because of the Kashmiri red chilli powder used.
INGREDIENTS:-
Medium Size  Mutton  pieces 800 grams
Yogurt 4 tablespoons
Black peppercorns 5-6
Black cardamoms 4
Asafoetida 11/4 teaspoon
Cinnamon 2 one-inch
Cloves 6-8
Kashmiri red chilli powder 1 tablespoon
Fennel seed (saunf) powder 2 teaspoons
Dry ginger powder (soonth) 1 tablespoon
Coriander powder 1 tablespoon
Yogurt,whisked 1 cup
1 ml Kwera
Salt to taste
METHOD:-
Heat oil in a thick-bottomed pan. Add asafoetida, cinnamon, cloves, black peppercorns and black cardamoms. Sauté till fragrant.
Step 2
Add mutton pieces and cook on medium heat, stirring constantly till lamb pieces turn a nice reddish brown colour. This may take twelve to fifteen minutes.
Step 3
Sprinkle a little water and continue cooking for twelve to fifteen minutes more on low heat. Make sure to stir continuously  So that  spices should not stick to the bottom of the pan. Add Kashmiri red chilli powder, fennel powder, dry ginger powder, coriander powder, Kewra water and salt  and cook till oil separates .
Step 4
Add yogurt and two cups of water. Cook in covered Pan or Pressure Cooker, till lamb is tender, stirring occasionally. In Pressure cooker it will take less time  approx 15-20 minutes.  This  is prepared during special occasions and festivals.
This  curry is best with any kind of roti, paratha or rice – rogan josh is very popular dish in North India.