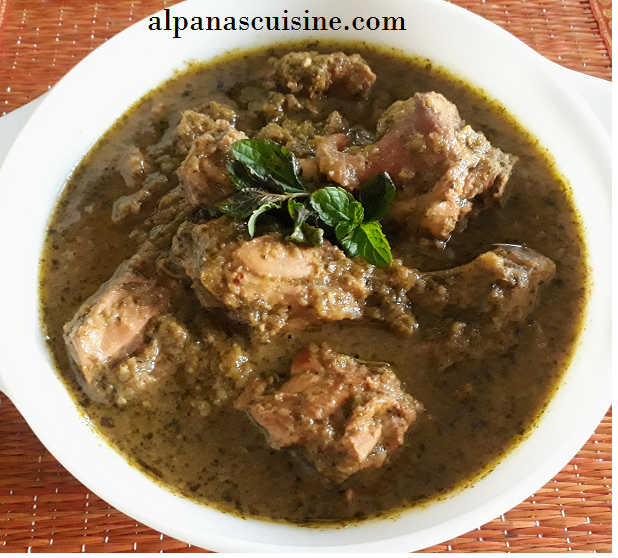 Pudina Dahi Murg
Pudina Chicken is a delicious  fabulous Hyderabadi cuisine. Indian cuisine comprises of a number of regional cuisines.  The cuisines differ from each other mainly due to the use of locally available spices, herbs .
INGREDIENTS:
Chicken : 750 gm, cut into pieces
Onion :  4 Nos.
Ginger :  2 inch
Garlic :    8-10 cloves
Tomato :  1 small chopped
Coriander leaves :  2 table spoon
Pudina (Mint) leaves : 8 table spoon
Salt :   to taste
Turmeric powder :   1/2 tea spoon
Red chilli powder :   1 ½ tea spoon
Thick curd   :           1 cup
Garam Masala powder :   1/2 tea spoon
Olive or Mustard oil :       3 to 4 table spoon
Water :           1 cup
METHOD:
Make a thick paste of onion, garlic, ginger, coriander and mint leaves.
Heat oil in a Kadahi. Put the paste in it and stir continuously for 4 to 5 minutes.
Then add tomato, turmeric and red chilli powder till the tomato soften and get tender.
Then add curd in this mixture slowly till the oil separates.
Then add the chicken pieces. Mix it properly and stir for 5 to 7 minutes.
 Now add water in it and turn the flame on high.
When boiling starts, turn the flame to sim. Cover the lid of cooker for 10 to 15 minutes.
When it gets cooled add garam masala powder.
 Serve hot with chapatti and rice.