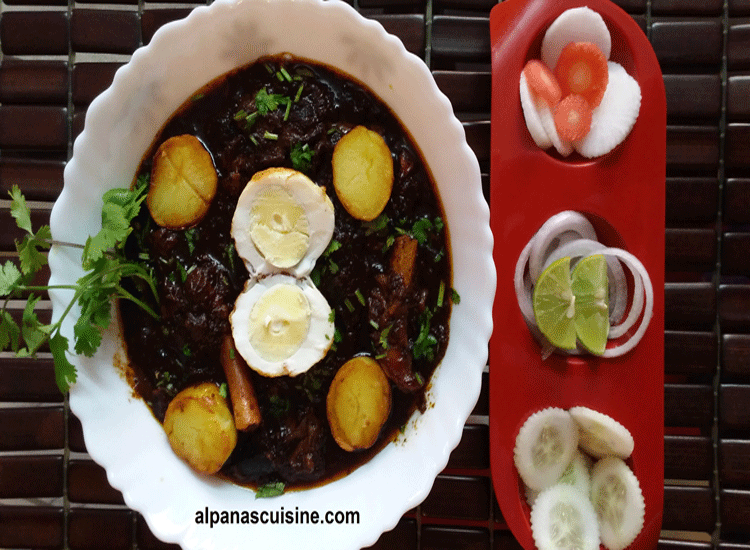 MUTTON KALIA
There are so many Traditional Mutton recipes in India like Awadhi, Hyderabadi, Kashmiri, Rajasthani etc. But Mutton kalia is one of the famous recipe, can be prepared easily and its tastes is amazing. I have made some changes to make this dish more nutritious and tasty by adding egg and potatoes. Enjoy this tasty and spicy mutton recipe
INGREDIENTS :
Mutton 1/2 kg
Potato 3nos(medium size)
Egg 4 boiled
Onion 250 grams ( sliced)
Tomato 1 sliced
Ginger+Garlic paste 2 tablespoon
Turmeric powder 1/2 teaspoon
Coriander powder 1 teaspoon
Cumin powder 1 teaspoon
Black  pepper powder 2 teaspoon
Red chilli powder 1  teaspoon
Garam masala 1/2 teaspoon
Whole Garam Masala (1 big cardamom,
1 inch mace,1 inch cinnamon,2 bay leaves,
2 dry red chillies)N
6 cloves,1/2 teaspoon peppercorn
Salt to taste
Water 1 cup
Mustard oil 4 tablespoon
Curd 3 tablespoon
Pure ghee 1 tablespoon
Coriander leaves
METHOD  :
Wash the mutton ,in a bowl take mutton ,curd ,turmeric powder,1 teaspoon ginger garlic paste,1/2 teaspoon red chili powder,1 sliced onion,1 tablespoon mustard oil.Mix all the ingredients and leave it for one our.
Now heat the mustard oil in a pressure cooker,add whole garam masala,bay leaf,dry red chillies,when begin to splutter add sliced onion add, ginger garlic paste and fry till it becomes golden brown.
Now add marinated mutton and cook till water evaporates (15 to 20 minutes)
Then add all the powdered masalas.After 5 minutes add sliced tomato , salt and stir till oil separates from masalas
In the meantime,boil the eggs and cut the potatoes into halves.Fry the eggs light golden and keep aside.Also fry potatoes.
When oil separates from masala ,add pure ghee,garam masala powder and  fried potatoes..and close the cooker.When one whistle come turn the flame on low for 10 minutes , then switch off the flame.
Garnish with fried egg and fresh coriander leaves.
SERVE HOT WITH  STEAMED RICE OR PLAIN PARATHA.
TIPS : Mixx raw papaya to mutton which makes mutton cook easily