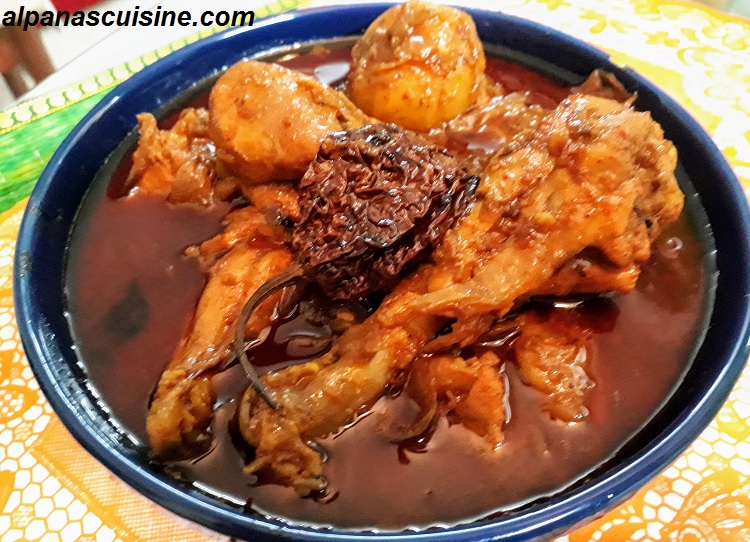 KUKURAR JHOL( CHICKEN CURRY)
Kukurar Jhol is Chicken Curry from Assamese Cuisine.In Assam eating is almost a ritual but cooking process is fuss free and sync with nature.Assamese cooking is a mixture of different indigenous style with regional variations.I have used "Bhut Jolokia"also known as Naga Jolokia/Naga mirch,worlds hottest chilli in this chicken curry.  This chicken curry goes well with rice or roti.
INGREDIENTS :
Chicken 700 grams(cut into medium size pieces)
Potatoes 2 medium(cut into halves and fried)
Onion 2 medium (sliced)
Ginger +garlic paste 2 tablespoon
Pure ghee 2 tablespoon
Mustard oil 4 to 6 tablespoon
Turmeric powder 1/2 teaspoon
Cumin powder 1 teaspoon
Garam masala powder 1 teaspoon
Salt to taste
Sugar- 1/2 teaspoon
One medium chopped tomato
Bay leaf 2nos
Bhut Jolokia mirch 1 dry
Water 2 to 3 cups
METHOD :
In a Bowl take chicken pieces turmeric powder ,half ginger garlic paste and one table spoon Mustard oil mix well  and keep the mix for 1 hour marinate.
Heat the mustard oil in a Pan or Kadhai . Add Bay leaf, Pinch of sugar, Bhut jolokia(Red Chilli )and Onion , fry till golden brown.
Add the remaining the ginger garlic paste and saute for 2-3 minutes.
Now add the marinaded chicken and cook 2-3 minutes now add all powder masalas , tomato (chopped) , Fry potatoes and add mix well. Cook for 10-15 minutes. Add the pure ghee also at this time to get better aroma and taste.
Now place the cooked chicken in Pressure cooker and add 2-3 Cup of Water and salt to taste.
Pressure cook for 3 whistle , Serve the Chicken curry in Bowl  and garnish with coriander leaf. Serve this with Roti or Rice.