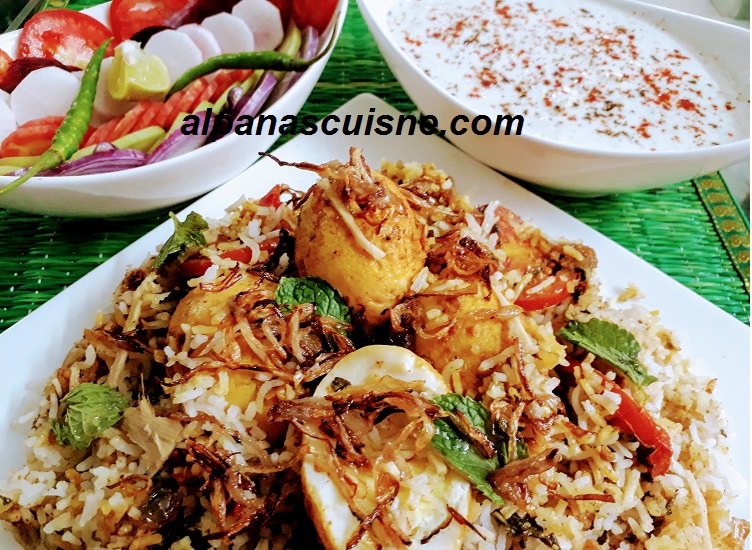 EGG DUM BIRYANI
Biryani is a special rice delicacy in india.Egg Dum Biryani is an authentic dum biryaani.It is a delicious,tasty and easy to make biryani.Its taste become amazing along with cucumber raita and salad.
INGREDIENTS:
Egg    : 6 nos.
Rice : 300 gms (Basmati long grains)
Onion (sliced) :4 nos.
Curd : 1 cup
Ginger + Garlic paste :2 table spoon
Turmeric powder :1/2 tea spoon
Cumin powder :1 tea spoon
Coriander powder :1 tea spoon
Red chilli powder :1/2 tea spoon
Salt :to taste
Garam masala powder :1/2 tea spoon
Oil :4 table spoon
For setting Biryani:
Onion rings :2 (open rings)
Onion sliced :4 (fry golden brown)
Tomato (medium sized) :3 nos.
Ginger – Julienne :2 inch long – 2 table spoon
Mint leaves (chopped) :6 table spoon
Coriander powder :1 ½ table spoon
Garam masala powder :1 ½ table spoon
Pure Ghee :4 table spoon
Saffron : ½ teaspoon in 1/2 cup milk (Soaked)
Salt : to taste
Dough :1 cup of flour
METHOD:
Wash the rice and keep for half an hour without Then half cook the rice and drain water properly. Keep aside.
Boiled the egg and peeled it . Heat the oil in Pan and shallow fry the egg and keep aside.
In the remaining oil add bay leaf and sliced onions and fry till it gets light golden.
Now add ginger garlic paste and salute for 2-3 minutes then add powder masala, cooked till it leaves oil..
Now add whisked Curds Salt and Mix well on slow heat. Stir continuously then add half cup of water . When boiling starts add fried egg and cook for 3-4 minutes.
Garnish with Fresh coriander leaves and turn off the flame.
For Setting Biryani:
Take a big deep bottomed pan and spread the oil uniformly in the inner wall and at its base .
Take some soft slice pieces of tomatoes and place it as first layer at the base of pan.
After that place the first layer of rice in the pan.
Place some round rings of onion over it, then tomato rings (slices), then ginger, mint leaves, salt, pure ghee, coriander powder, garam masala powder, 4 table spoon of Saffron (Kesar) milk , 2 eggs masala and crispy fried onion.
Now put second layer of rice and cover the egg Now repeat the same layering process.
After third layer of this, add egg at the end (in last layer) cover with rice. And put 4 table spoon saffron milk over it (so that in looks good) and crispy fried onion slices with mint leaves.
Now cover the pan sides with and sealed the lid with  dough properly, so that vapour will not come out.
Put the pan on a preheated tava on low flame for one hour.
Transfer rice into serving dish. Garnish with fried boiled eggs pieces and crispy onion.
Serve hot with cucumber raita.