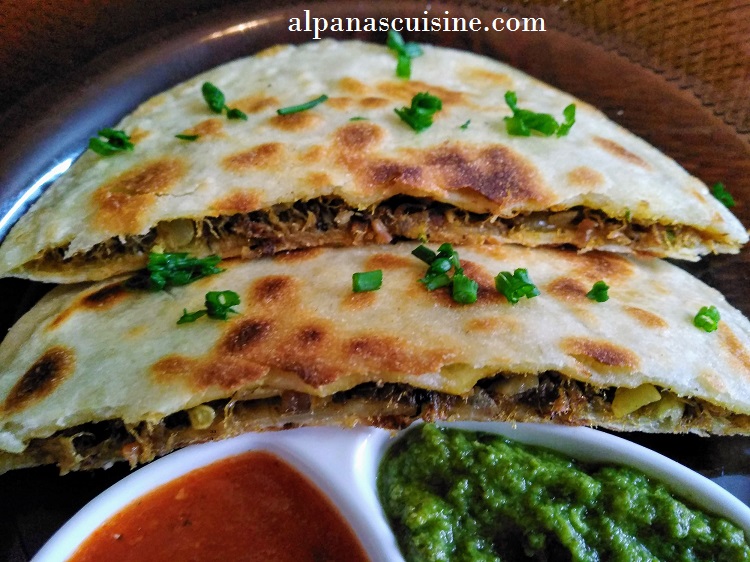 SABAGLEB
Just returned back from a delightful place it's a simply – Heaven on Earth! Nothing can describe it better Pangong Lake looks straight out of a painting because of three different shades of Blue color .The Khardungla top, at 18,380 feet, is the highest motor able road in the world. The sand dunes and the double humped camels at Nubra valley. Being a foodie, how can I not talk about the food here? Sabagleb – bread stuffed with chicken or mutton and bursting with flavours at each bite  is famous food in Leh-Ladakh
INGREDIENTS:-
250 gms mutton Keema
1 onion ( finely chopped)
4 cloves garlic ( finely chopped)
1 inch- Ginger finely chopped
1 teaspoon garam masala- Powder
Salt to taste
½ tea spoon- Turmeric powder
½ tea spoon- Black pepper – powder
Oil – 2 table spoon
All-purpose flour 2 cup
Pure ghee- 2 table spoon
METHOD:-
Take all-purpose flour in bowl and add small pinch of salt and make soft dough cover and keep aside .
Heat the oil in heavy bottomed pan.
Saute onion until soft and translucent, about 5 minutes.
Now add garlic and ginger and saute for 1 minute.
Now add mutton Keema into this and stir it till golden brown.. Reduce heat, and simmer for 10 to 15 minutes or until meat is fully cooked through, and liquid has evaporated.
Now add garam masala and salt, and cook for 1 minute.
For stuffing
Take dough and make equal size ball. First roll the ball into the roti and spread Keema mixture over the roti.
Cover with another same size roti and seal the edge by applying little water and press with folks.
Heat the tawa and place this on tawa. Cook on low heat, Apply ghee and turning side till evenly done on both side.
Cut the paratha into half and transfer on to the serving plate, garnish with few coriander leaves and serve hot with tomato & coriander chutney.