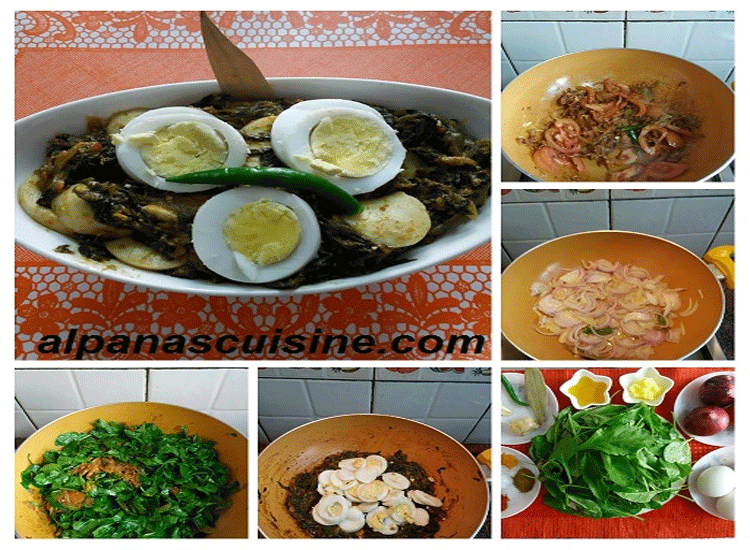 SPINACH EGG SPECIAL
Spinach and Eggs provide many nutrients we need.And when we make a dish of this combo it gives nutritious benefits.Getting high quality protein from eggs and a range essential minerals and vitamins from spinach provides of variety of health benefits.Spinach Egg Special is very simple and tasty dish.Try this dish with paratha.
INGREDIENTS :
Spinach (palak)1/2kgs
Eggs 4 nos
Tomato 1 medium sliced
Tomato 1 medium sliced
Ginger + Garlic paste 1 tablespoon
Coriander powder 1/2 teaspoon
Cumin powder 1/2 teaspoon
Turmeric powder 1/2 teaspoon
Red chilli powder 1/2 teaspoon
Garam masala powder 1/2 teaspoon
Green chilli 1, Bay leaf 1
Olive/Mustard oil 1 tablespoon
Pure ghee 1 tablespoon
Salt to taste
METHOD  :
Wash Spinach in the running water for at least 3 times ,then in the last round wash spinach in the warm water.
Cut the spinach and keep aside.
Boil the eggs and cut into round shape , keep aside
Now heat the oil in a pan,add bay leaf,slit green chilli and onion.Saute onion till it become translucent
After that add ginger+ garlic paste and saute on medium heat
After 5 minutes add turmeric,coriander and cumin powder,saute for 2 minutes then add tomatoes and salt.Cover the pan with lid.
Saute for 5 to 7 minutes or till water evaporates from spinach.
Now add pure ghee and garam masala powder.
Now add sliced boiled eggs in the spinach masala.
SERVE HOT WITH PARATHAS