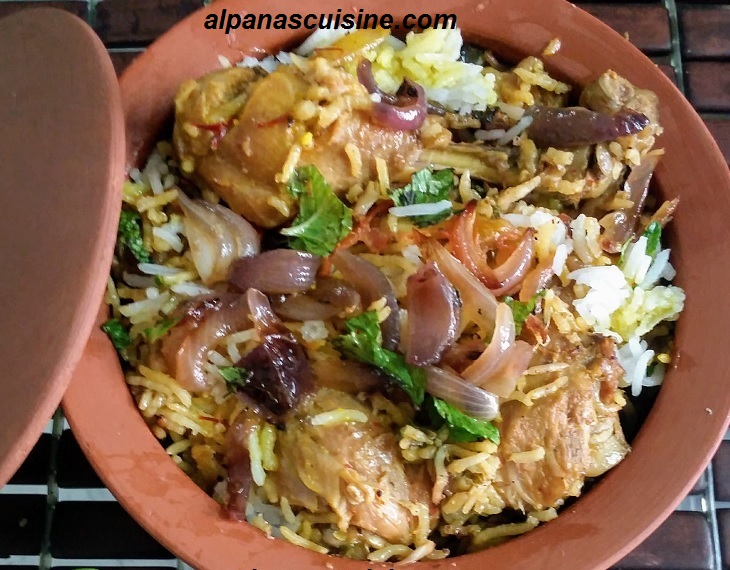 CHICKEN DUM BIRYANI
Chicken Dum Biryani is one of the delicious chicken recipes  that is prepared by cooking chicken with steam (literal meaning of dum pukth). Overloaded with ghee, this Indian recipe is known for its aroma and is cooked using an earthen or a copper pot.Chicken biryani is the most famous rice preparation in India.It can be made as one pot meal.
INGREDIENTS:
Chicken : 750 gm (cut into pieces)
Rice : 1/2 kg (Basmati long grains)
Curd :1 cup
Ginger + Garlic paste : 2 table spoon
Turmeric powder    1/2 tea spoon
Cumin powder :1 tea spoon
Coriander powder : 1 tea spoon
Red chilli powder : 1/2 tea spoon
Salt : to taste
Garam Masala powder :  1/2 tea spoon
Oil :  2 table spoon
Onion (sliced)  4 nos
For setting Biryani:
Onion rings : 2 nos. (open rings)
Onion sliced : 4 (fry golden brown), keep aside
Tomato (medium sized) :round sliced 3 nos.
Ginger – Julienne : 2 inch long – 2 table spoon
Mint leaves (chopped) : 6 table spoon
Coriander powder  1 ½ table spoon
Garam masala powder  1 ½ table spoon
Pure Ghee 6  table spoon
Kesar in half cup milk (soaked)
Salt :  to taste
Dough  1 cup of flour
METHOD:
 Wash the rice and keep for half an hour without water. Then half cook the rice and drain water properly. Keep aside.
  For marinade take the chicken in a bowl. Mix all the ingredients except onion slices.
 Heat the oil in a pan. Put the onion and fry till it gets light golden.
  Now add marinated chicken and stir well and saute till water evaporates.
  Cover the pan with lid till chicken become cooked and keep aside.
For Setting Biryani:
Take a big deep bottomed pan.
Oil the pan from inner wall and at its base properly.
Take some soft slice pieces of tomatoes and put it as first layer at the base of pan.
Now put the first layer of rice in the pan.
Place some onion rings over it,then tomato rings(slice).ginger,mint leaves,salt, pure ghee,coriander powder ,garam masala powder,4 tablespoon saffron milk,some chicken pieces and crispy fried onion.
Now put the second layer of rice and cover the chicken pieces.Then repeat the same layering process.
After third layer of this process,add chicken at the end(in the last layer)cover with rice.And pour remaining saffron milk over it and crispy fried onion.
Now cover the top edges,sides of the pan with dough ,then place the lid over it.Now cover and sealed  the sides and edges of the pan with dough so that vapour will not come out.
Place the pan on preheated tawa on low flame for one hour
Transfer the rice into a serving dish,garnish with crispy fried onions
Serve Biryani hot with cucumber raita