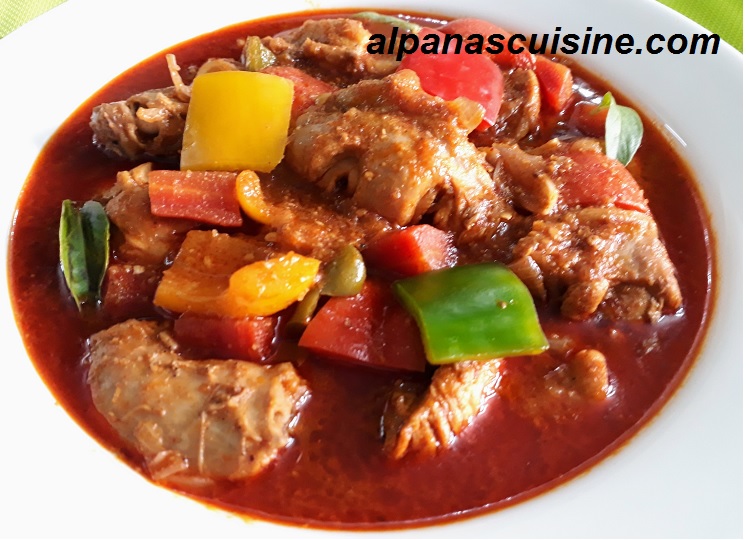 THAI RED CHICKEN CURRY
This Thai Red Chicken Curry is very tasty chicken curry ,easy to make at home. It has lots of flavour This  has wonderful flavour of fresh citrus zing  with lime zest and basil  spread  incredible aroma.
INGREDIENT  :
Chicken 750 grams(boneless or with bone)
Thai curry paste (red)home made
Garlic 6 cloves(chopped)
Oil 3 tablespoon
Onion 1 sliced
Shallots 4 nos cut into halves
Bell peppers(cut into square)1 cup
Carrots 1/2 cup (cut into square)
Coconut milk 200 ml
Lime leaves 4/5 nos
Basil leaves 4/5 nos
Lemon zest 1 teaspoon
Sugar 1 teaspoon
Soya sauce 1 teaspoon
Salt to taste
Thai Red Paste Spices  – Cumin 1 tsp,coriander seeds 1 tsp,white pepper 1 tsp,garlic 5 cloves,ginger 1 inch,1 onion,red chilli dry 5 nos(soaked in water),fresh coriander roots 2 tbsp.(Dry roast cumin,coriander and pepper for two minutes ,then make a paste with all other spices for red paste)
METHOD  –
Boil the chicken with 1 cup of water,salt and 1/2 teaspoon of black pepper(only 1 or 2 whistle ,keep aside
Heat the oil in a pan ,add sliced onion  and garlic and cook 2 minutes.Add the curry paste,sizzle for few minutes.Add shallots and bell peppers and saute for few seconds
Now add boiled chicken with stock,bring it to boil,add coconut milk,lime leaves ,salt,sugar and simmer the flame for 12 to 15 minutes.
After 15 minutes add soya sauce(in  place of fish sauce).Add basil leaves and turn off the flame.
Serve hot with steamed rice and kimchi salad.