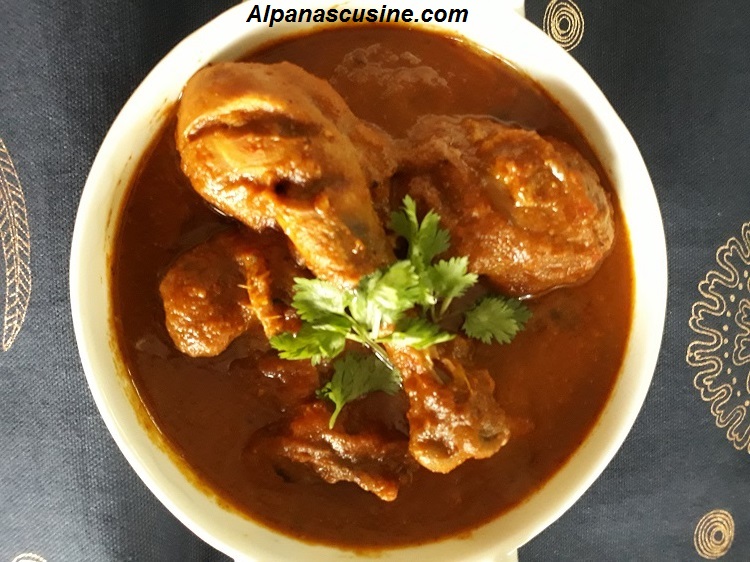 Puran Singh Da Tariwala Murg
Puran Singh Da Tariwala Murgh* is very famous and delicious chicken curry We had  tasted this dish at Puran Singh Da Dhaba  on the Ambala-Delhi GT road.  I have  tried this recipe in my kitchen and taste was awesome . It was worth trying this simple recipe and  I  am sure you will  also like it.
INGREDIENTS  :
Chicken 700 grams ,cut into medium size pieces
Oil 4 tablespoon
Onion medium chopped 4 nos
Ginger +garlic paste 2 tablespoon
Fresh tomato puree 1 cup
Green chilli chopped 5 nos
Cumin seeds 1 teaspoon
Cinnamon 2 inch stick
Green cardamom 4 nos
Black cardamom 2 nos
Turmeric powder 1 teaspoon
Coriander powder 4 teaspoon
Garam masala powder 2 teaspoon
Red chilli powder 1 teaspoon
Kashmiri red chilli /deghi mirch powder 2 teaspoon
Green cardamom powder
Browned onions 1 cup
Fresh coriander leaves(chopped) 4 tablespoon
Ginger chopped 2 inch
Salt to taste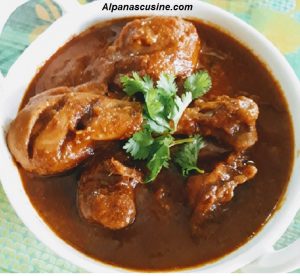 METHOD  :
Heat the oil in a deep bottomed pan,add cumin seeds,cinnamon,green cardamom,black cardamom and ,saute for 2 minutes then add onions and saute till light browned'.
After that add ginger garlic paste and salt and saute till raw aroma of ginger garlic leaves.
Now add 2 teaspoon coriander powder,red chilli,turmeric and garam masala powder ,mix well
Add tomato puree and saute for 2 minutes ,then add chicken and browned onions and cook for five minutes
Add green cardamom powder,green chillies and coriander leaves ,saute for five to seven minutes
Add 2/3 cups of water,mix well.Cook for 10 to 12 minutes on medium heat or till chicken completely cooked
Now add chopped ginger,remaining coriander powder,red chilli powder and mix well
Take the pan off the heat,take out the chicken pieces and strain the gravy.Take the gravy into another pan and add the chicken pieces in the gravy.
Grind the residue , add to the gravy and bring into boil.Cover the pan and simmer for 5 to 7 minutes.
SERVE HOT WITH ROTI OR RICE,GARNISH WITH CORIANDER LEAVES
*Note:- This recipe  is inspired from celebrity chef of india Mr. Sanjeev Kapoor 's Yellow Chilli and  Puran singh's Dhaba