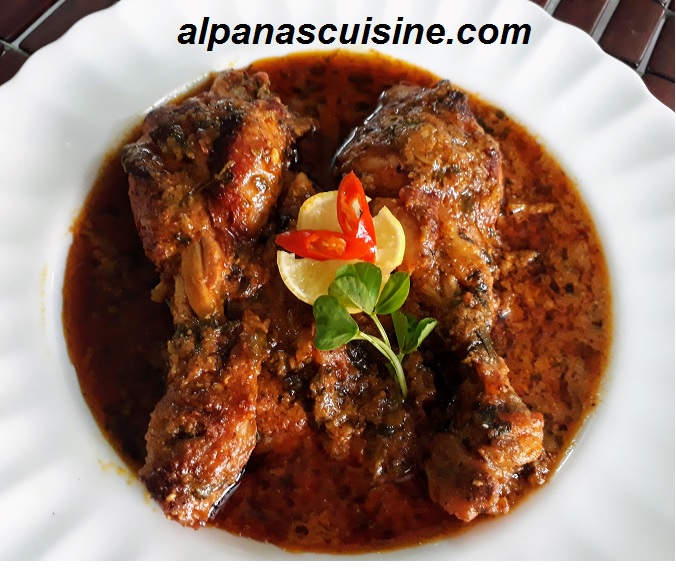 METHI MURGH
Methi Murgh   is one of the most famous and delicious dishes from the Hyderabadi cuisine. This  dish is prepared with chicken and fresh methi (fenugreek) leaves.
INGREDIENTS:-
Chicken – 750 gm
Fenugreek Leaves (Methi) – 1 bunch (about 2 cups)
Onion – 4 sliced
Green Chillies – 2
Ginger Garlic Paste – 2 tbsp
Tomatoes – 2 (chopped)
Yogurt – 1/2 cup (beaten)
Turmeric Powder – 1/2 tsp
Kashmiri Chilli Powder – 3 tsp
Coriander Powder – 2 tsp
Garam Masala Powder – 1/2 tsp
Lemon juice 2 tablespoon
Bay leaf 2
Kasoori Methi- 1 tbsp
Salt to taste
Pure ghee- 4 tbsp
Fresh cream 2 tablespoon
METHOD:-
FOR MARINATION-Wash the chicken. In a bowl add chicken,1 tablespoon ginger garlic paste,1 teaspoon red chilli powder,lemon juice,1 tablespoon curd and mix well, and keep for 30 minutes.
Take a heavy bottomed pan, heat the ghee, add sliced onion,ginger garlic paste and green chillies and fry till golden brown and keep aside for cooling.After cool down make paste of this fried onion.
In the same pan in which the onions fried ,add remaining ghee  and bay leaf. Add the chicken pieces, Fry till  brown.Take out the chicken pieces and keep aside.
Add chopped tomatoes, powdered masalas ,salt in the same pan and cook till spices leaves the oil.Add onion paste and curd and cook for 3 to 4 minutes and add half cooked chicken,cover and cook for 12 to 15 minutes
Add chopped fresh methi and cook 2 to 3 minutes more.
Finally add water, garam masala. cream, Kasoori methi  and mix well . Cover and cook 5 minutes more.,turn off the flame.
Before serving , garnish the chicken with fresh methi  leaves and serve with steamed  Rice or Roti/ Paratha.