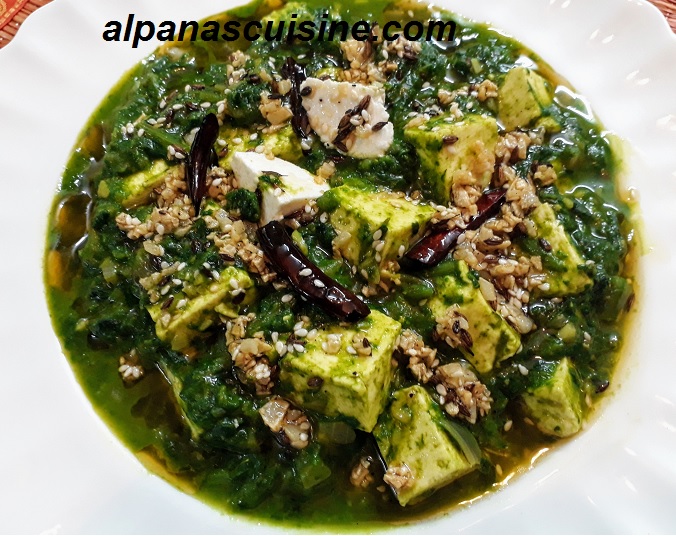 LEHSUNI PALAK PANEER
Lehsuni Palak Paneer  is a delicious recipe.It is is  similar to palak paneer  but due to  prominent flavour of garlic, taste is quite different .This dish is full of iron,protein,calcium and fiber.
INGREDIENTS :
PALAK PANEER
Spinach 1/2 kg
Paneer (home made)250 gms
Onion 2 medium(chopped)
Garlic 1 tablespoon (chopped)
Coriander seeds 1 tablespoon (crushed)
Cumin seeds 1 teaspoon
Turmeric powder 1/4 teaspoon
Garam masala powder 1/2 teaspoon
Green chillies 2 chopped
Pure ghee 2 tablespoon
Gram flour(besan) 1 tablespoon
Salt to taste
Water
TEMPERING :
1 tablespoon ghee
1/2 teaspoon cumin seeds
15 cloves garlic(chopped)
2 dry red chillies
1 teaspoon sesame seeds
METHOD  :
PALAK PANEER
Wash and blanch the spinach in boiling water for 2 minutes.Drain and immediately put into the chilled water.Squeeze the spinach and divide into two parts.
Take the half part and grind it into a smooth paste and roughly chopped the second part ,keep aside.
Now heat the ghee in a pan ,add cumin seeds and onion.Add crushed coriander seeds and garlic until the onions become light golden.
Add green chillies,gram flour,turmeric powder and chopped spinach, cooked on high flame for 1 minute.
Now add blanched spinach puree and mix well.
Add water ,salt, garam masala powder and paneer.And cook for 2 minutes on high flame.
TEMPERING :
Heat ghee in a small vessel,add cumin seeds,garlic and cook till garlic turns golden brown.Then add dry red chillies and sesame seeds and pour over palak paneer.
Palak Paneer Lahsuni is goes well with roti or paratha.