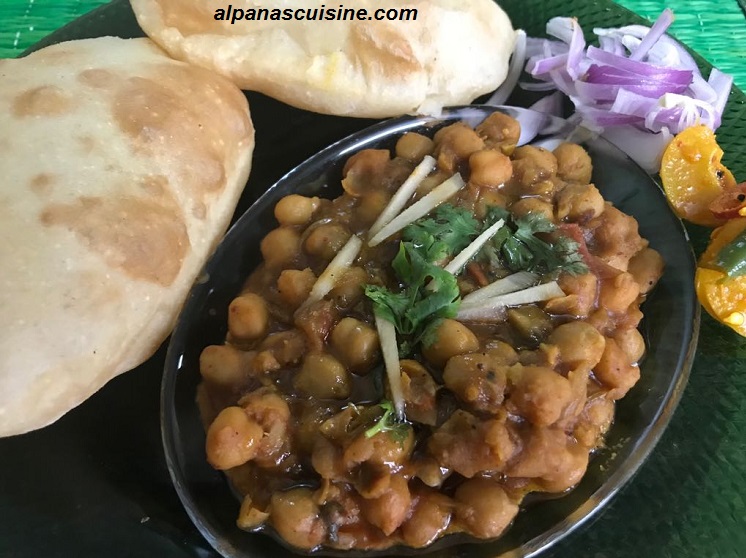 Instant Bhature & Chole
Instant  Bhature and chole is one of the most famous Punjabi recipe which is now liked almost all over India.
INGREDIENTS : For Chole (white chick peas )
250 grams white chick peas
6 medium onion chopped
2 inch ginger paste
2 tomato chopped
1 teaspoon coriander Powder
1 teaspoon cumin Powder
1/2 teaspoon red chilly powder
1 nos dry red chilly
whole garam masala(2 black,2 green cardamom,1inch cinnamon,1/2 inch mace,6 cloves and 6 black pepper corns
2 tablespoon mustard oil
1 tablespoon pure ghee
salt to taste both(black /white)
2 bay leaves
METHOD
Soak chick peas overnight
In a pressure cooker add clean and drained chick peas,both salt,bay leaf,1 black cardamom with 5 cups of water and pressure cook.Bring to full pressure on high heat and reduced heat for 20 minutes.Allow to cool
Heat the mustard oil in a pan ,add chopped onion,ginger paste and saute till onion become translucent.Then add chopped tomatoes till it become soft.
Now add  powder masala ,pure ghee and mix well
Transfer these masalas in pressure cooker and mix well, if there is need then add water and cook till one whistle ,turn off the flame
Serve hot and garnish with ginger , Onion slice
INGREDIENTS : For Instant Bhature
1 cup wheat flour
1/2 cup Multipurpose flour
1 cup curd
4 tablespoon semolina(Suji)
1 teaspoon baking powder
2 tablespoon Vinegar
2 tablespoon olive oil
1 teaspoon sugar
salt to taste
oil for frying
METHOD :
Sieve Wheat and Multi Purpose flour,semolina,baking powder and salt
Add yogurt,oil, sugar and Vinegar and water in the flour
combine all the ingredients and make a soft dough
Now cover the dough with damp cloth and keep in a humid place for 15-20 minutes
To make bhatura take a medium size ball of dough and roll them like rotis but slightly thick than rotis (apply flour or oil while rolling)
Now heat the oil in deep pan or kadhai.heat the oil well so that bhatura do not absorb extra oil and  become fluffy.Gently place the bhature and fry from both sides and it should be light golden brown.Drain on absorbent paper.
Serve hot with chole,pickle,sliced onion and green chillies.
Enjoy this weekend with tasty chole bhature