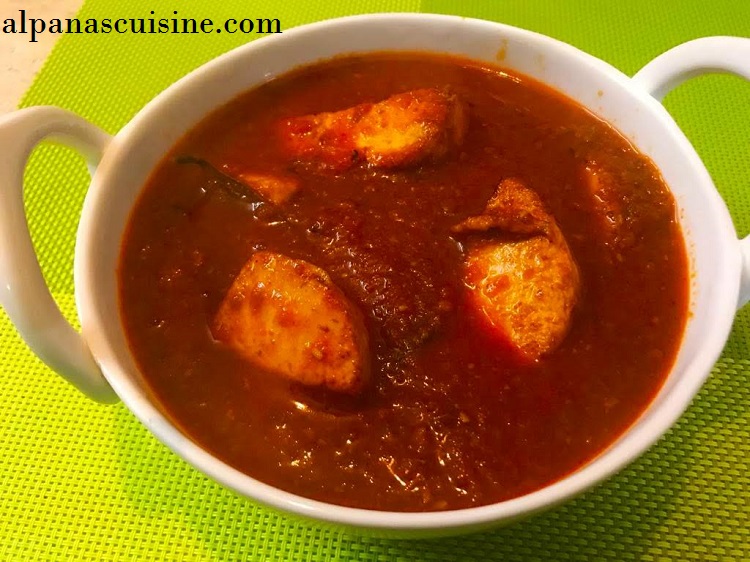 LAL PANEER
LAL Paneer or Tamatar Chaman is very famous Kashmiri recipe and normally people prefer this with Rice. The ingredients like fennel (saunf) and dried ginger powder (sonth / sundh), resulting in a superb cuisine-defining dish.
INGREDIENTS
250 gram paneer, cut into 2-inch x 1 inch x 1-inch pieces
3 green cardamom
1 black cardamom
2 cloves
1 bay leave
1 piece cinnamon, 2-inches
4 tablespoon vegetable oil
½  teaspoon ginger paste
½  teaspoon garlic paste
½  tablespoon  Kashmiri red chilli powder,
1/4 teaspoon dried ginger powder (sonth)
100 ml tomato puree or make puree from Red fresh 4 medium size Tomato
1/4 teaspoon fennel powder (saunf)
1/2 teaspoon garam masala powder
salt, to taste
METHOD
Heat the oil in kadhai and deep fry paneer on low heat light golden brown . The remaining oil will be used for preparation.
Now dry roast    green cardamom, black cardamom, cloves, bay leaves, and cinnamon  for about a minute  add remaining oil and stir well; add ginger and garlic pastes, and stir continuously till lightly browned and  add red chilli powder, dried ginger powder (sonth), and ¼ cup water; stir and continue to cook till oil leaves the masala 
Add tomato puree and cook for 5 to 6 minutes then add  fennel powder (saunf)  cook for another 5 to 6 minutes. Add 300 ml water, stir well to mix, then  add all  fried paneer, followed by garam masala powder and salt. Stir gently, then cover and cook for about 3-4  minutes. Remove lid and  in simmer till the gravy has thickened  about 10 to 15 minutes.
Server hot with steamed rice


Acknowledgment:  Thanks to the Ramada Jammu where I had tested this dish !