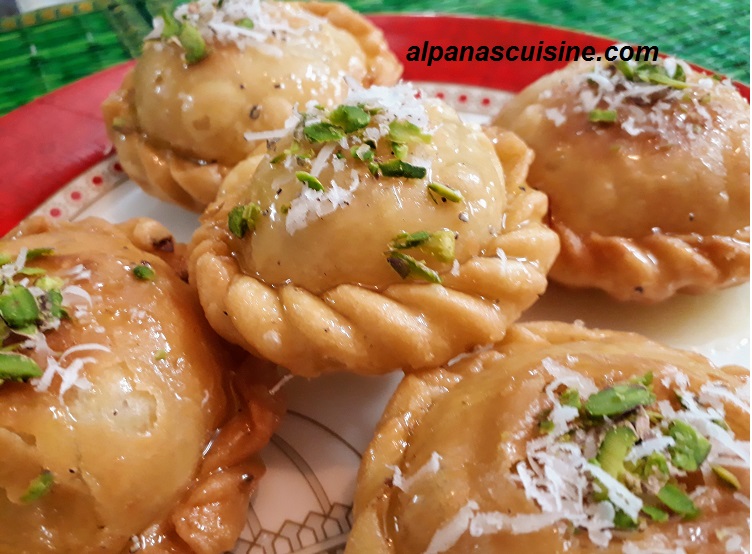 CHANDRAKALA
Chandrakala is traditional sweet delicacy from Northern India and very common during Diwali .It is made of Multipurpose Flour stuffed with sweetened khoya ,coconut,cardamom powder and dry fruits with crispy covering and dipped in sugar syrup.Enjoy Diwali with this sweet delicacy with family and friends.
INGREDIENTS  :
Multipurpose flour 2 cups
Pure Ghee 1/2 cup
Khoya 250 grams
Cashewnuts 5 pc
Badam 5 pcs
Walnuts 5 pcs
Pistachios 5 pcs
Green cardamom powder 1 teaspoon
Sugar powder 2 tablespoon
Desiccated Coconut
Oil for frying
Method  :
For stuffing Material
Heat the 1 teaspoon ghee in a pan,add khoya on low heat till light pink ,let it be cool.
Now add chopped dry fruits( Cashewnut, Walnut,Almond) ,sugar powder, cardamom powder, desiccated coconut, in the khoya and mix well.
For dough
Take flour in a bowl,add ghee and mix well with palm.Add lukewarm water and knead a little hard dough.Cover the dough and leave the dough for half an hour.
For stuffing
Divide the dough into equal portion and roll out two portion of dough like poori.
Place 1 teaspoon of stuffing material into the center of the poori.Apply some water in the sides of the poori  and cover with second poori . Apply some water on the edges of poori and twist the edges in a pattern.
Heat the oil/ghee in a deep pan.Deep fry the  chandrakala  on slow flame till they become golden from all sides.Drain on absorbent paper.
For chashni  
In a pan add sugar and 1 glass of water .When it starts boiling for 2 minutes add remaining cardamom powder and let it boil for another couple of minutes till (1 tar chashni )formed.
Now turned off the flame ,add Laung Latika in the chashni and mix gently and allow it to soak the chashni for 15 to 20 minutes.
Dip the chandrakala in hot syrup or chasni , Drain and garnish with desiccated coconut & Pistachios before serve