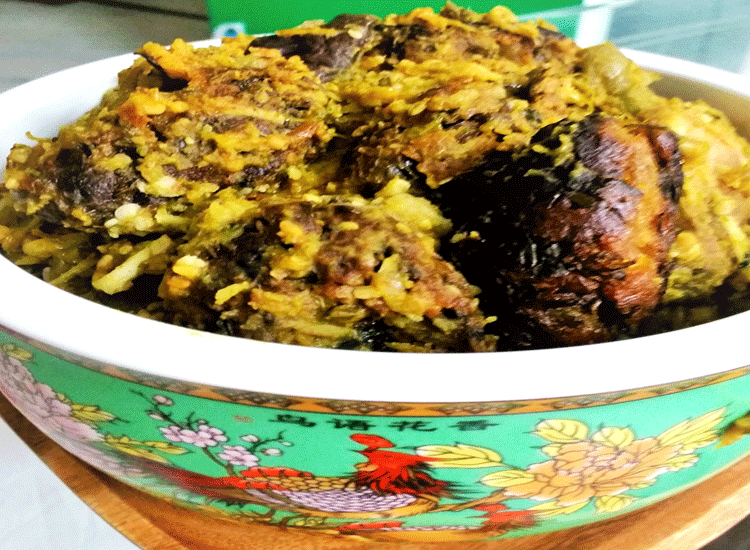 UNDHIYU
Undhiyu is very famous authentic dish of Gujrati Cuisine.It is the identity of Gujrat,specially made in winter
along with the celebration of festivals.Traditionally it was cooked in the earthern pots. But I have used pressure cooker for fast cooking.In diffrent parts of Gujrat it is prepated in diffrent ways.Undhiyo is a nice combinatin of diffrent herbs and seasonal vegetables.Few blog reader requested for this receipe .Hope you people enjoy it.
MUTHIYA
INGREDIENTS
Wash and chopped fenugreek(methi)1 1/2 cup,whole wheat flour 1 cup , 1 cup gram flour,sugar powder 3 tablespoon,turmeric powder 1 teaspoon,red chilly powder 1 teaspoon,coriander powder 1 teaspoon,fruit salt/baking powder 1/2 teaspoon,lemon juice 2 tablespoon,salt to taste,oil 1 teaspoon+oil for frying
METHOD
Mix all the ingredients of muthiya to make a soft dough,dough may be little sticky then add more gram flour.Grease your hand with little oil and make oval shape muthiyas.Deep fry muthiyas on medium heat till golden brown .
GREEN MASALA
INGREDIENTS  
Chopped coriander leaves 50 grams,green garlic 50 grams, ginger 1 inch,roasted skinless peanuts 100 grams,roasted sesame seeds 2 tablespoon,fresh or dry grated coconut 1/2 cup,sugar powder 2 tablespoon,green chillies 5/6,lemon juice 2 tablespoon,salt to taste.
METHOD
Cut ginger ,garlic and green chillies and make a rough paste,half crush the roasted peanuts and mix with salt,sugar powder and lemon juice.
UNDHIYU
INGREDIENTS
Surti papdi 200 grams,yam(suran)75 grams,purple yum 75 grams,tuvar lilva 50 grams,sweet potato 75 grams,green peas 50 grams,turmeric powder 1 teaspoon,red chilli powder 1 teaspoon,coriander powder 1 teaspoon,cumin powder 1 teaspoon,asafoetida 1/2 teaspoon,salt to taste,oil 6/8 tablespoon
METHOD
Clean surti papdi,string and cut into halves,peel the potatoes,yum,sweet potato, and cut into cubes.
Slit potatoes,banana and brinjal in four parts as bottom should not cut
Take half of the green masala and mix in the vegetables(surti papdi,yum,sweet potatoes)and marinate for 15/20 minutes.
Take the slitted potato,brinjal,banana and stuffed remaining green masala inside the veggies
Now heat the oil in pressure cooker/ deep bottomed pan and also take the remaining oil used for frying muthiya because it added extra flavour to Undhiyu.Add carom seeds and asafoetida in the oil,when starts spluttering add surti papdi,yum ,green peas,all powdered masalas and salt.mix well and cook for 5 minutes.
Now layer stuffed potatoes,brinjals and banana
Add i cup of water then add methi muthiya over it.Close the lid and cook on medium heat for 2 whistle.Open the lid after pressure comes out naturally.
Do not over mix the vegetables gently take out it,because muthiya and cooked vegetables may break.Garnish with fresh coriander leaves.
SERVE HOT WITH POORI AND SHRIKHAND