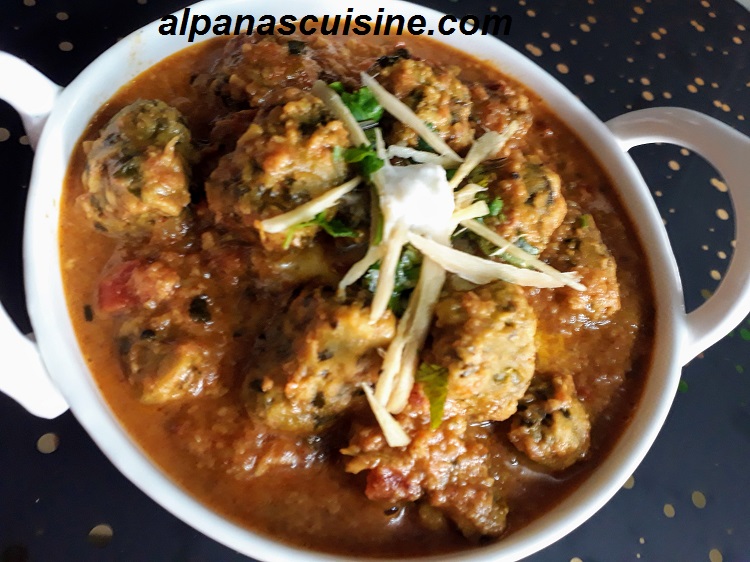 METHI MALAI GATTA
Methi Malai gatta is famous Rajasthani cuisine and  low fat with lot of nutrition.
INGREDIENTS :For Gatta
Gram Flour 1,1/2 cups
Fenugreek Leaves(methi)1,1/2 cups(chopped)
Carom seeds(ajwain) 1/2 teaspoon
Oil 3 tablespoon
Green chillies(chopped)1 teaspoon
Salt to taste
INGREDIENTS :For gravy
Onion 2 medium(grated)
Tomatoes 4 medium(pureed)
Ginger+garlic paste 1 tablespoon
Coriander powder 1 teaspoon
Turmeric powder 1/4 teaspoon
Kashmiri red chilli powder 1 teaspoon
Oil 2 tablespoon
Fresh cream(malai)1/2 cup
Garam masala powder 1/2 teaspoon
Salt to taste
METHOD :
In a bowl take besan(gram flour),ajwain,chopped methi leaves,green chillies,oil and salt.Slowly add enough water(if necessary) and knead a stiff dough.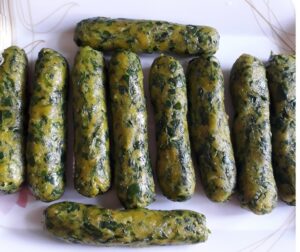 Roll into finger size rolls and place into 3 cups of boiling water.Allow to cook for 5 minutes .Turn off the flame and take out the rolls from water.Reserve the liquid.After little cool down, cut the gattas into 1″piece and keep aside.
Now heat the oil and add grated onion till they become light golden.Then add ginger garlic paste and tomato puree.Fry till it leaves oil,Add coriander, turmeric powder and salt.
Now add enough water in which gattas were boiled according to gravy required.
Add gattas, cook for 7 to 8 minutes on low flame.Then add garam masala and fresh cream and turn off the flame
Pour it into serving dish and garnish with coriander leaves ginger  julienne.