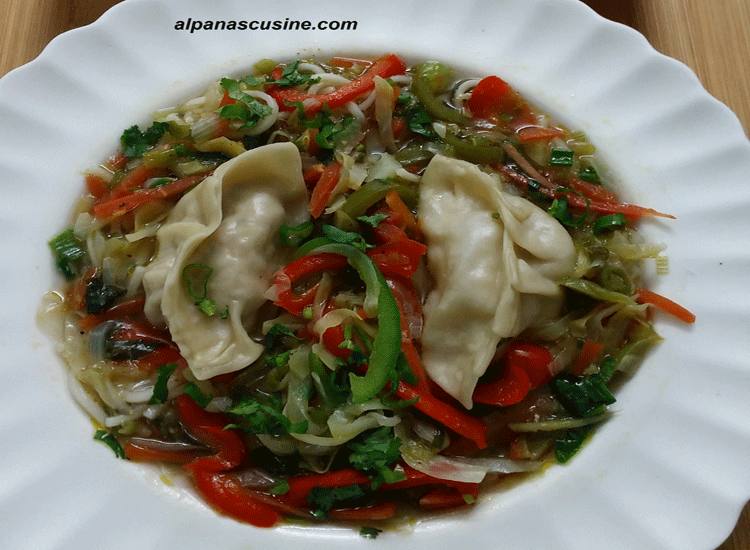 MOMOS THUKPA
Thukpa is noodle soup prepared with  Vegetables or chicken .
It is a healthy and  nutritious soup.There are various version of making Thukpa soup but I  tried Sikkim's speciality Thukpa with Momos. Many times me and my family  tried this Thukpa with Momos .This is a wholesome soup and when we combined Thukpa with Momos its tastes turned out to be awesome.Try this soup which is very delicious and perfect for cold day.
INGREDIENTS  :  FOR THUKPA 
Rice noodles/buck wheat/regular noodles 100 grams

Carrot 1 cup (cut lengthwise)

Capsicum ( red,green,yellow) 1 cup(cut lengthwise)

Cabbage 1 cup (cut lengthwise)

Spring onion 1 cup (chopped)

Onion 1/2 cup (sliced)

Ginger 1 inch (chopped)

Green chillies 2 (chopped)

P

epper powder 1 teaspoon

Fresh coriander (chopped)2 tablespoon

Chicken stock /plain water 4 cups

Salt to taste

Spinach 50 gms

Oil 2 teaspoon
METHOD   :MAKING THUKPA 
Boil water in a pan ,add noodles and cook for 2 minutes.Drain and keep aside.

Heat oil in a pan , add green chillies,ginger and onion ,stir for 1 minute.Then add carrot , capsicum and saute for 2 minutes.

Now add cabbage , green part of spring onion ,pepper powder,salt and chicken/vegetable stock or water and simmer for 5 minutes,and turn off the flame.

To serve, first place noodles in a bowl , then add ladle full of hot soup with vegetables into it and topped with momos and fresh coriander leaves
METHOD:     MAKING MOMOS – Chicken /Vegetable
INGREDIENTS

AND

MAKING  

DOUGH

– Multi purpose  flour 250 grams,1/2 teaspoon salt,warm water.Mix flour with salt and knead a dough with warm water.Cover the dough with damp cloth and leave for 30 minutes.

INGREDIENTS

FOR

CHICKEN MOMOS FILLING

-Minced chicken 250 grams,Onion chopped 100 grams,Ginger chopped 2 inch,Black pepper powder 2 tablespoon,Melted butter 2 tablespoon,Green chillies 2 chopped,Fresh coriander leaves 2 tablespoon,Spring onion 2 chopped (optional),Salt to taste
METHOD

FOR

CHICKEN MOMOS

 -In a bowl combine all the ingredients of chicken momos filling and mix well with hands ,so that mixture become soft and smooth.Keep it in fridge

INGREDIENTS

:

FOR

VEGETABLE

MOMOS

FILLING  

-Onion 1/2 cup ,Cabbage 1 cup,Capsicum 1 cup,French beans 1/4 cup(finely chopped),Ginger 1 tablespoon (chopped),Black pepper powder 1 teaspoon ,Salt to taste,sesame oil 1 tablespoon,cornflour 2 tablespoon
METHOD 

FOR

VEGETABLE  MOMOS

; Heat oil in the pan and saute all the vegetales for 5 minutes and turn off the flame.Now add salt , pepper powder and cornflour in the sauted veggies and veg momos filling is ready.

STUFFING

AND

STEAMING

OF

MOMOS

-Make equal small portion of dough.Roll out dough into 4/5 inch diameter circles.In each piece place 1 tablespoon minced chicken filling ,wet the edges with water ,twist in desired shape and seal it.Then steam the Momos for 12 to 15 minutes in a steamer.

SERVE HOT THUKPA SOUP WITH MOMOS AND TOMATO GARLIC CHUTNEY
NOTE :You can add minced chicken balls in place of
momos.For that mix one egg in the minced chicken and mix well.Make small balls of chicken  and put into the pan of  boiling soup and cover the lid for 10 minutes. This is even better from Health point of view because in this we have not used refined flour. But when we are taking out the chicken Ball from Soup then we have to take special care.
ENJOY HOT SOUP IN THE COLD WEATHER