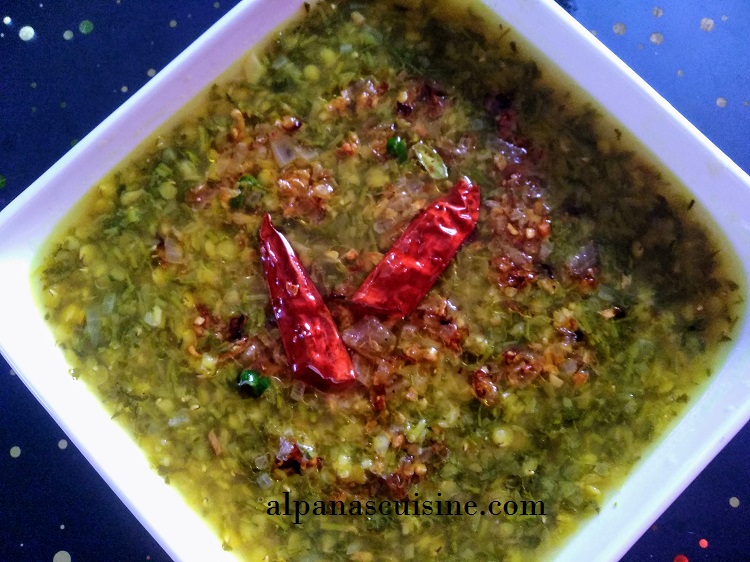 SAGPAITA
Dal Sagpaita is a very famous dish of Bihar and Uttar Pradesh.Dal Sagpaita has many variations.We can use different dal and green leaves in this dish. I have used Masoor dal with green gram leaves(chane ki saag)to make this dish tasty.We can enjoy this Dal Sagpaita with hot steamed rice.
INGREDIENTS:
Masoor dhuli (red lentil) 1 cup
Green gram leaves(chane ki saag) 250 gms
Onion 1 chopped
Desi ghee 2 tablespoon
Dry red chillies 2
Garlic chopped 1 tablespoon
Turmeric powder 1/2 teaspoon
Asafoetida a pinch
Cumin seeds 1/2 teaspoon
Salt to taste
METHOD :
Take soft part of chane ki saag,wash and chopped.
Wash moong dal and add in a pressure cooker ,turmeric powder,salt and 2 cups of water.
Now cook it for 2 whistle on high and 3-4 minute on medium heat.
TEMPERING :
Heat ghee in a small pan,add cumin seeds, garlic and asafoetida
Now add onion and fry till it becomes light golden.Then add dry red chillies.pour this tadka over dal and mix well.You can add some water if dal is too thick and give one boil.
Sagpaita is ready to serve.It goes well with steamed rice.