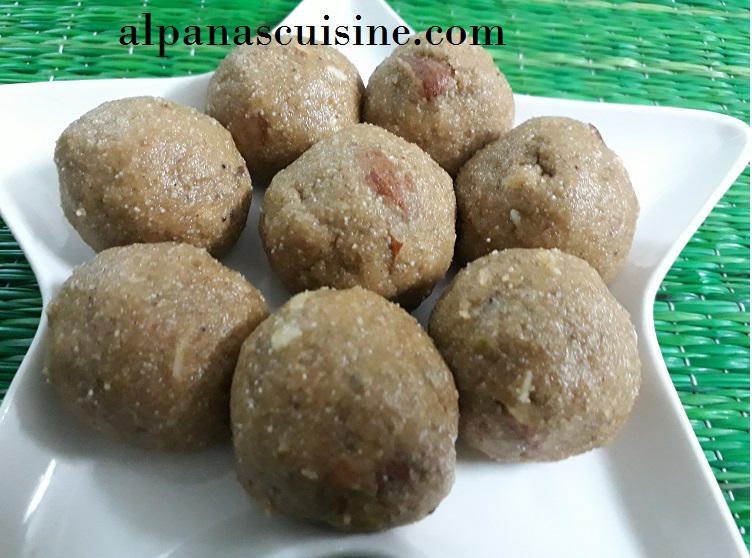 ATTA DRY FRUITS LADOO
Atta ka Ladoo, a rich and healthy ladoo, is commonly made in every household with some variations.It is a very simple recipe with few ingredients with amazing taste.It is a winter speciality.
INGREDIENTS :
Multigrain atta 2 cups
Sugar powder 1,1/2 cup
Pure Ghee 3/4 cup or 1 cup
Cashew nut (roughly chopped)1/4 cup
Raisins 1/2 cup(chopped)
Walnut 1/2 cup(roughly chopped)
Almond 1/2 cup (roughly chopped)
Makhana 1 cup (fox nut)(roughly chopped)
Green cardamom powder 1 teaspoon
METHOD  :
Roast chopped dry fruits (light) in 1 teaspoon of ghee and keep aside.
On low medium heat ,dry roast atta until its colour changed and sweet aroma coming out.This should take about 8 to 10 minutes.Keep stirring continuously to evenly roast the atta.
Now add ghee and keep roasting,keep stirring continuously, till light brown .
Now turn off the heat and transfer the mixture into another bowl.When the mixture become light warm add sugar and cardamom powder and roasted dry fruits,mix well.
Now quickly make the ladoos,take 2 tablespoon atta mixture into palm and gently press the mixture between the palms to form a round balls.Try to make smooth round balls.Ladoos are ready,keep it in a plate for 30 minutes for setting.
NOTE ;In case if you cannot be able to form ladoos,then add few teaspoon of ghee to the atta mixture,mix well then form the Ladoos.