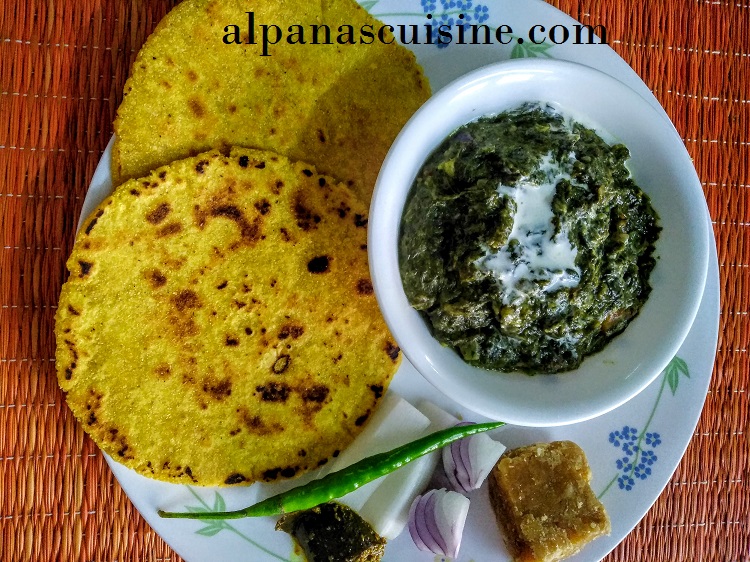 SARSON DA SAAG TE MAKKI DI ROTI
Food is very important to celebrate the Harvest festival of "Lohri".. Sarson da saag te makki di roti is a pure Punjabi dish that is enjoyed by both Punjabis and non-Punjabis alike . This dish is regarded as the traditional way to prepare saag and is usually served with makki di roti, gur, achar, muli & pyaz. . It can be topped with either Makkhan or more traditionally with ghee .
SARSON DA SAAG
INGREDIENTS:
Mustard greens(Sarson da saag)           :           500 gms
Spinach leaves                                            :           150 gms
Bathua leaves                                             :           150 gms
Soya leaves(Dill leaves)                            :           50 gms
Pure Ghee                                                    :           2 tbsp
Ginger chopped                                          :           1 tablespoon(tbsp)
Garlic chopped                                           :           1  tbsp
Onion chopped                                           :           1 medium size
Tomato chopped                                        :           1 medium
Hing                                                               :           ¼ tea spoon
Salt                                                                 :           to taste
Chopped green chilli                                 :           1 tbsp
METHOD:
Clean all leaves with at least three water and also with warm water.
Drain all leaves and fine chop them.
Now add all leaves along with Sarson, chopped Ginger & garlic with salt, hing in pressure cooker.
Now put the cooker on gas stove and when one whistle comes on high flame then slow the flame and cook another 15 minutes.
When cooker pressure will come out then remove all materials from cooker and blend it .
Now heat the pure ghee in pan add onion and saute it till it becomes translucent,
Now add chopped tomato , chilli, and again saute till tomato  becomes soft and tender.
Now add Saag and simmer on low flame for 5-6 minutes.
Sarson da Saag is ready now,
MAKKI DI ROTI
INGREDIENTS:
Makki ka Ata(Flour) : 2 cups
Carom seeds : 1 teas spoon
Salt : to taste
Warm water for kneading : as require
Makkhan/Ghee : 1 tbsp for toppings
METHOD:
Sieve the Ata and add carom seeds m salt. Now add warm water little by little and knead a smooth dough.
Make a equal size ball and flatten it with your palms.
Sprinkle little flour and roll it into thick round shaped roti.
Place the rolled roti over the heated tawa and cook from both sides.
Server it hot and before serving spread either Butter or Ghee.
TIPS:- Server Sarson da saag te Makki di roti with Gur Muli & pyaz,