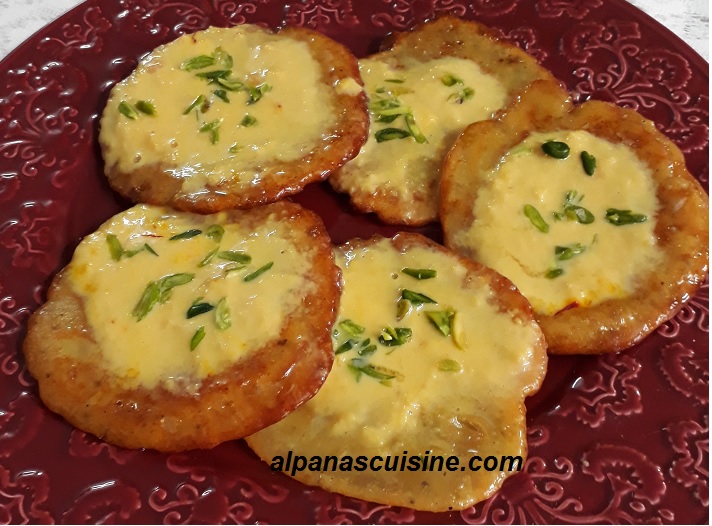 RABRI MALPUA
Malpua is a pancake served as a dessert,a delicacy of North India.It is deep fried in pure ghee and dipped in sugar syrup.At the time of serving topped with Rabri and Pistachios.During festivals like Holi, Id ,Dusshera it is served as special sweet dish in Bihar.
INGREDIENTS
Milk                                :           1 liter
Sugar                             :             2 cup
Flour(Maida)              :             1 cup
 Saffron                        :             ½ tea spoon
Green cardamom      :             1 tea spoon
Pistachios                    :             15
Baking soda                :             ½ tea spoon
METHOD –
RABRI: 
Boil milk and sugar (1/2 cup) in a thick bottomed pan.
Simmer, stirring continuously till it is reduced to 1/3 of its volume
Add ½ tea spoon green cardamom powder and chopped pistachios
SUGAR SYRUP :
Take sugar and 1 cup of water bring it to boil to make sugar  syrup of two string consistency. Add saffron in the sugar syrup, keep aside.
PUA :
In the sifted flour add remaining green cardamom powder and half cup thickened milk.
Mix well to prepare a batter of pouring consistency.
Heat oil in a flat shallow frying pan. Put the ladle full of batter in the pan , cook on the medium heat 3-4 minutes
Deep fry both sides till light brown.
Remove from pan and keep 'pua'  on tissue paper so that extra oil absorbed by paper .
After five minutes dip in saffron flavour sugar syrup. Then remove from sugar syrup and take one table spoon of rabbi and spread over  pua  ready for serve.
Tip : If You deep fry Malpua in pure ghee , it tastes better.