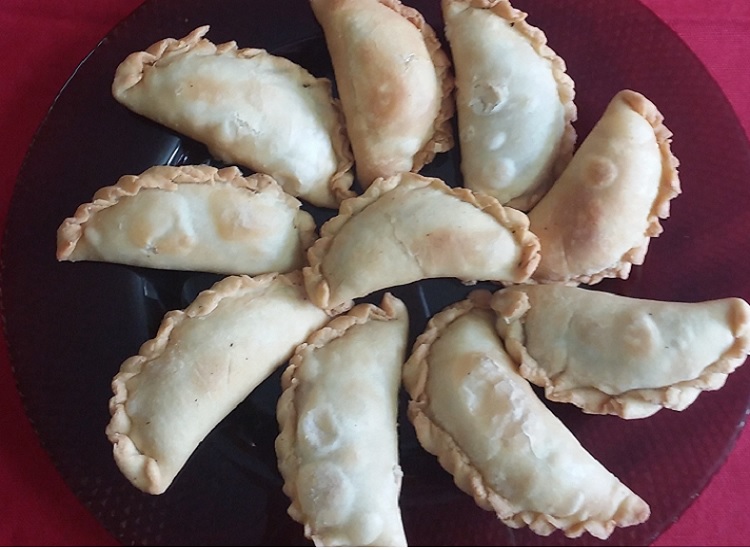 GUJIYA
Gujiya is very popular and famous dish in North India.They are made mostly during festive time.There are many variations in stuffing recipe of Gujiya like it made  with khoya-mawa ,sooji,dry fruits, dipped in sugar syrup etc…Different region has different name of Gujiya like in Bihar -Pedakia ,  Maharashtra-Karanji,   Gujrat-Guhara but the shape is same and name is different.Here is the recipe of Khoya Gujiya .
INGREDIENTS  : 250 grams khoya , 500 grams multi purpose flour, 150 grams sugar powder, 200 grams pure ghee, 100 grams raisins, 50 grams dry grated coconut, 2 teaspoon green cardamom powder, oil for deep frying ,water
METHOD  :
In a bowl take multi purpose flour ,150 grams melted pure ghee,mix ghee and flour with hands and rub in your palms.
Then add water slowly to  make firm dough. Cover the dough by moist muslin cloth and keep for one hour.
STUFFING & FRYING
Crumble the Khoya , heat the ghee in a pan and add Khoya .
Stir the khoya continuously on the low flame till light golden colour, keep aside for cooling
Now add sugar powder, chopped raisins, Cardamom powder and mix it well.
Take the dough and divide in equal portion and roll out it like small poori.
Put  one and half tablespoon khoya mixture over the poori and apply little water on the edges of half side and gently press the edges.
Make a semi circle shape after pressing edge and design the edge by your thumb or Gujiya cutter.
Now heat the oil in the deep fry pan or kadhai and gently slide the gujiya into  the oil and  fry the gujiya from both side till it become golden brown.
Drain the Gujiya on the absorbent paper.
ENJOY THE KHOYA GUJIYA IN THE FESTIVE OCCASION.