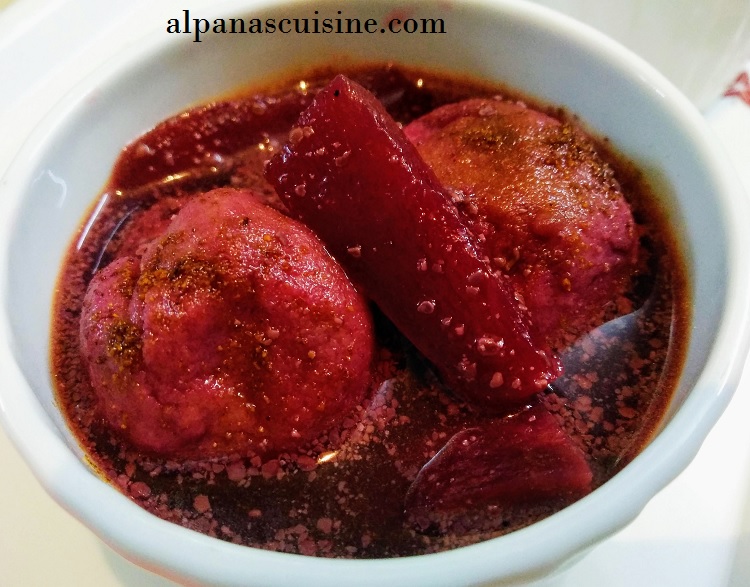 KANJI VADA
Gajar ki kanji or fermented carrot drink is nutritious drink.It helps in digestion.It is low calorie drink normally made with black carrot but any type of carrot can be used.
FOR KANJI
INGREDIENTS :
Black carrot- 250 grams
Water – 2 liters
Black mustard powder -2 tablespoon
Red chilli powder- 1 teaspoon
Normal salt to taste
Asafoetida –  a pinch
Mustard  oil – 1 tablespoon
METHOD :
Peeled ,washed, cut carrots into 2 inch batons.Take a big glass jar,clean and sterilize it.
Boil water in a pan,add carrot batons and switch off the gas.
Allow mixture to cool down ,then add all the spices and salt.
Por the Kanji mixture in the dry jar and close the lid tightly.
Keep the jar in the sunlight for 4/5 days(in winter). In summer 2 days are enough for fermentation.
If there is no sunlight ,keep the jar in a warm place and allow it to fermentation.
Stir with a dry spoon every day.  (*Note)
TO MAKE VADAS
INGREDIENTS :
Dhuli Moong(  1 cup )
Dhuli urad( 1/2 cup )
Ginger 1 inch
Green chillies 2
Asafoetida 1/4 teaspoon
Salt to taste
Oil for frying
METHOD 
Soaked both dal  overnight
Wash and grind with ginger,green chillies and asafoetida and make thick batter
Heat the oil and fry the vadas till golden brown.
Soak the Vadas in warm water for 10 minutes.Add little salt and 1/2 teaspoon roasted cumin powder(optional) in the water.
Press the vadas between palms of your hand to squeeze excess water.
Add vadas in the kanji drink and leave for 5/6 hours.
*NOTE : When drinks starts souring it means the Gajar Kanji is ready.