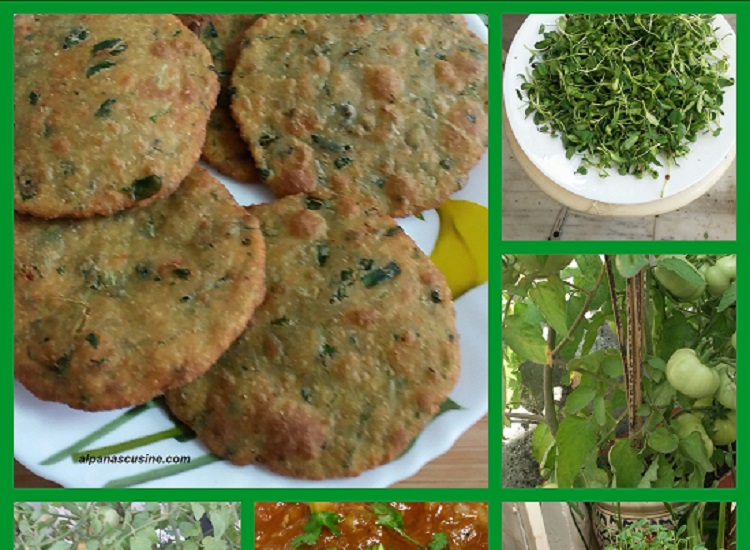 METHI KI KACHORI
Fenugreek seeds have lots of benefits like medicinal, therapeutic and natural home remedies.Here is the recipe of Methi ki kachori ,in which methi leaves are from my terrace garden.In the interval of every 7/8 days i grows methi in a bottle or or any small plastic container.Enjoy this khasta methi ki kachori with roasted tomato chutney(tomatoes are also direct from terrace garden)
INGREDIENTS :-
Whole wheat flour 2 cups
Gram flour 6 tablespoon
Fenugreek leaves 1 ,1/2 cup(chopped
Turmeric powder 1 teaspoon
Pure ghee 2 tablespoon
Ginger grated 1 inch
Salt to taste
water
Oil for frying
METHOD  :-
Mix wheat flour,gram flour,methi leaves,turmeric powder,ghee, ginger and salt.Knead a tight dough with little water.
Cover the dough for 10 minutes with damp cloth.
Then divide the dough in small equal size balls
Roll the dough like small kachori
Deep fry the kachoris till golden brown from the both sides.
SERVE HOT WITH ROASTED TOMATO CHUTNEY
NOTE  :If you want to stuff the methi ,you can add gram flour,turmeric powder,ginger, and salt to chopped methi,stuff in the dough,roll and deep fry kachori.
ROASTED TOMATO CHUTNEY  :This Roasted Tomato chutney is very special because i have made it direct from my terrace garden.
INGREDIENTS :-
Tomatoes 250 grams
Onion 1 medium (chopped)
Garlic cloves 10 nos
Green chillies 4 nos
Mustard oil 1 tablespoon
Salt to taste
Fresh coriander leaves
METHOD :-
Roast tomatoes ,garlic and green chillies ,keep it in a bowl.
Now peel off tomatoes,garlic and mash with green chillies
Add mustard oil,chopped onion,salt and coriander leaves mix well .
Roasted tomato chutney is ready to serve.
THIS CHUTNEY RECIPE IS FROM MY COOKERY BOOK "'MA KI RASOI SE"