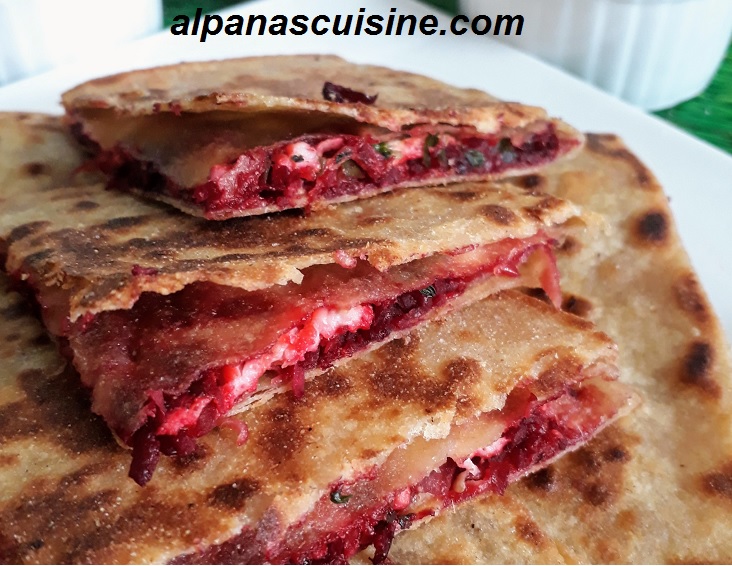 BEETROOT PANEER PARATHA
Beetroot Paneer Paratha is a healthy and tasty paratha.It is a wholesome breakfast.So here i am presenting a tasty flat bread,which is crispy from outside prepared with minimal oil but with excellent taste.
INGREDIENTS  –
Whole wheat flour 1 cup
Paneer(home made)grated 1/2 cup
Beetroot grated 1/2 cup
Onion chopped 3 tablespoon
Ginger grated 1 tablespoon
Green chillies chopped 1 teaspoon
Coriander leaves 2 tablespoon
Chaat masala 1 tablespoon
Salt to taste
Pure ghee 3 tablespoon
METHOD  –
Mix water and little salt in the flour and knead a  soft dough.Divide the dough into two portions and shape them into round balls.
Now roll the ball a 5 inch square disc.Apply  some ghee and  sprinkle some flour.Then fold it into half and again apply ghee and fold in square shape and roll it out.
Place paratha on hot tawa for two minutes on one side, flip over and cook for for another two minutes.Now open the  top layer of paratha gently and place all the ingredients of filling in the paratha(beetroot,paneer etc.).
Drizzle ghee over paratha and cook till golden brown from both sides.
SERVE HOT WITH ALOO TAMATAR KI SABZI IN  MUSTARD GRAVY,TAMARIND CHUTNEY AND BOONDI RAITA.