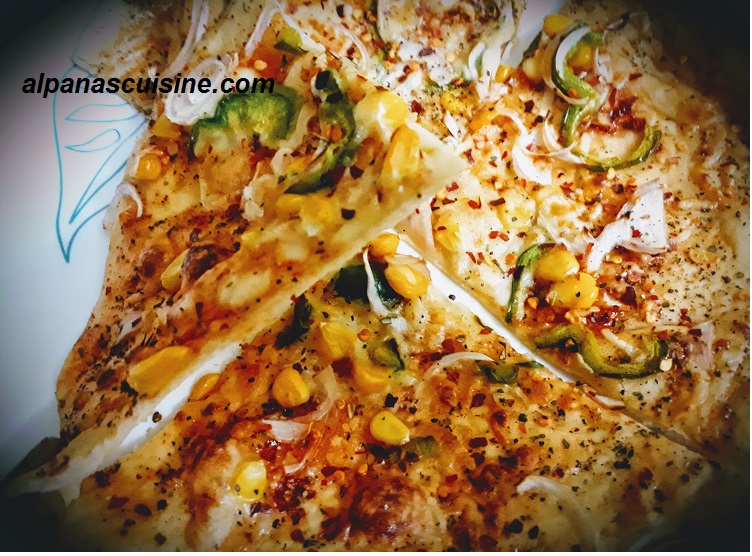 Thin Crust Pizza
Pizza is a flatbread  topped with tomato sauce and cheese and baked in an oven. It is commonly topped with  Cheese , Vegetables or non veg.
INGREDIENTS FOR PIZZA BASE  :
Multi purpose flour 2 cup
Dry yeast 1  teaspoon
Sugar powder 1 teaspoon
Salt 1/2 teaspoon
Butter 4 tablespoon
Luke warm water 1/4 cup
Oil 1 tablespoon
INGREDIENTS FOR TOPPINGS
Onion 2 medium (thinly sliced)
Capsicum 2 medium (thinly sliced)
you may add vegetables of your choice
Sweet corn 1/2 cup
Mozeralla cheese 1 cup grated
Oregano 2 tablespoon
Chilli flakes 1 tablespoon
Tomato sauce 5 tablespoon
Chilli sauce 2 tablespoon
METHOD :
In a 1/4 cup luke warm water add yeast and sugar powder and mix well.Cover it and keep in the dark place for 10 to 15 minutes.After 15 minutes we will see the frothy layer on the top,if not then discard it .
In a bowl combine the plain flour,oil  and salt and mix well.Then add the yeast mixture and mix well(dry).Then accordingly add water  and  make  a soft dough.(Once kneaded,insert the fingertip into the dough and it should bounce back clean, that means dough is ready.)
Now cover the dough with damp cloth for 30 minutes.The dough will rise and double in volume.(after 30 minutes)
Again knead the dough by adding little flour if the dough is too sticky.
Divide the dough into two equal parts to make big equal size thin crust pizza base. Then roll out big thin base.
Spread the butter on the baking tray and place PIZZA base over it.
After that  spread the tomato , chilli sauce ,sprinkle little oregano , chilli flakes ,then spread the grated cheese and  onion and capsicum .
Preheat the oven at 200 degree ,And bake pizza at 200 degree for 15 minutes on high rack(or according to your oven).
SERVE HOT PIZZA WITH KASUNDI MUSTARD SAUCE.