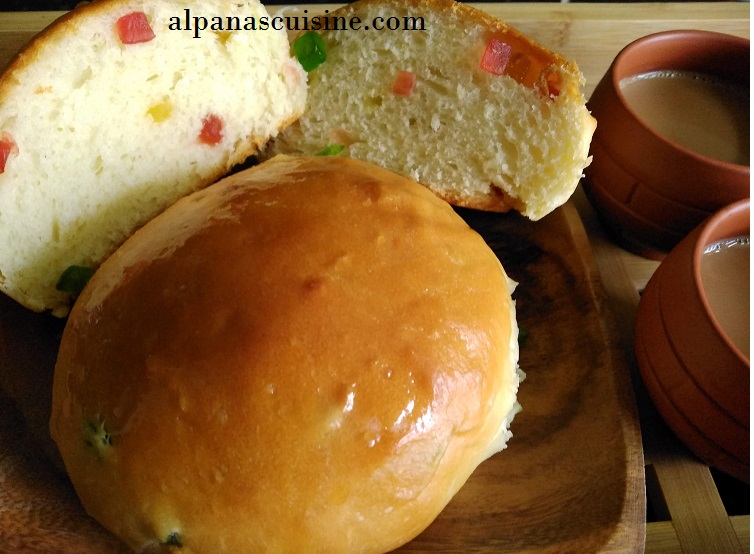 TUTTI FRUTTI SWEET BUN
Tutti frutti sweet Bun is full of milky flavour with soft texture.Enjoy this sweet bun with a cup of tea or Milk. You can also take with Jam.
INGREDIENTS :
Multi purpose flour(maida) 2 cups
Milk Powder 2 tablespoon
Sugar 2 +1 tablespoon( powder)
Salt a pinch
Dry yeast 1 teaspoon
Lukewarm milk 1 cup
Lukewarm milk 1/4 cup
Tutti Frutti 1/2 cup
Butter 2 tablespoon(melted)
METHOD :
STEP 1 -Take 1/4 cup of lukewarm milk,  add 1 teaspoon sugar powder and yeast and mix well.Cover it and keep aside for 10 to 15 minutes.
STEP 2 _Now take flour in a bowl ,add salt,milk powder and remaining sugar powder and mix well.Now add yeast mixture and mix properly(dry).Then add warm milk accordingly,butter and knead a soft dough .Cover with damp cloth for 20 to 30 minutes or till dough become double.
STEP 3 _  Again knead the dough for 5 minutes.Add Tutti Frutti in the dough. Grease the baking tray ,make a equal size 4 balls and keep it in the baking tray in little distance.
 STEP 4 – Now brush with milk over the dough balls ..Again leave dough balls covered to become double.
STEP 5 – Now bake it in 180 degree in preheated oven for 20 to 25 minutes. Take out and brush with butter over the bun.
Serve hot with coffee or tea.