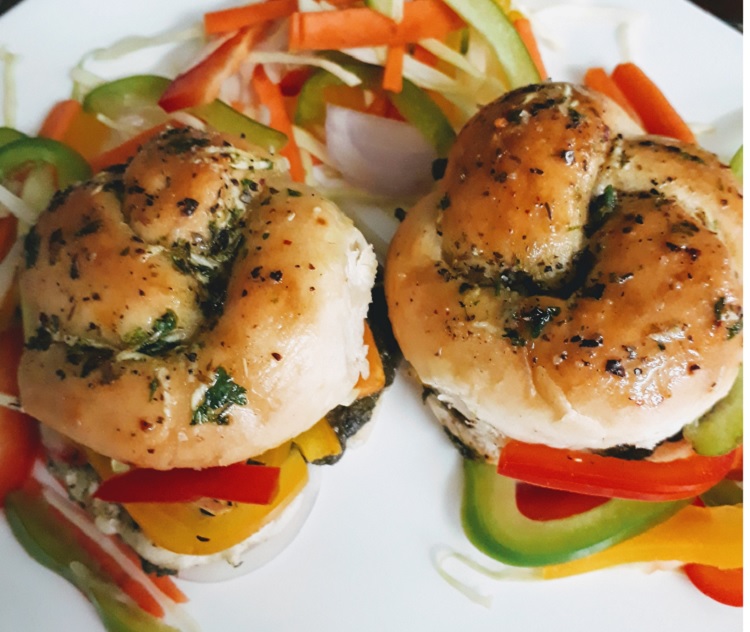 PESTO GARLIC VEG KNOT BUN
This Pesto garlic Veg Bun is  Italian cuisine and very simple to make and full of flavour  with excellent source of Vitamin K and manganese .
INGREDIENTS :FOR DOUGH
Multipurpose flour 2 cups
Fresh yeast 1 teaspoon/Dry yeast 2 teaspoons
Sugar powder 2 teaspoon
Salt 1/2 teaspoon
Oil or butter 2 tablespoon
Lukewarm water 1/4 cup
Plain water 1 cup
Vanilla essence 1 teaspoon
 FOR FILLINGS
Onion,carrot,bell peppers(red,green,yellow)
chopped 5 tablespoon
Mixed herbs 1 tablespoon
Garlic grated 2 tablespoon
Parsley chopped 2 tablespoon
Butter 3 tablespoon
Mozzarella cheese- 1/2 cup ( grated)
METHOD :
Step 1 -Take 1/4 cup of lukewarm water add 1 teaspoon sugar powder and yeast and mix well.Cover it and keep aside for 10 to 15 minutes.
Step 2 -Now take flour in a bowl ,add salt and remaining sugar powder and mix well.Now add yeast mixture and mix properly(dry).Then add water and vanilla essence  and knead a soft dough .Cover with damp cloth for  30 minutes or till dough become double.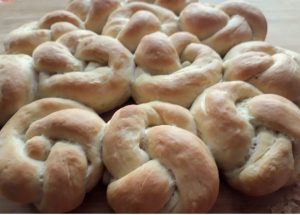 MAKING OF KNOT SLIDERS BUNS
Step-3  Take the  dough  Knead 5 to 7 minutes on plain surface  till become soft.
Step-4 Punch dough down,divide into forth and cut each part into three more parts(total 12 )parts.
Step-5 Roll each portion into a log of approx size 6-7 inch.To form knots,tie into a  knot,tuck ends under side.Place all the rolls on greased tray,cover with damp cloth for  30 minutes or  it  doubled.
Step-6 Brush with salted water .Preheat the oven and bake for 20 minutes at 200 degrees.
Step-7 Remove from  pan and  cut the  buns horizontally in two piece. During cutting use clean cloth from top to save the knot. Spread Basil  pesto,veggies and mozzarella cheese . Place the  top part of the knot buns.
Step-8 Mix melted butter,grated fresh garlic and parsley  and then Spread over the knot buns.Bake at 180 degree for 10 minutes
SERVE HOT WITH  MIXED SALADS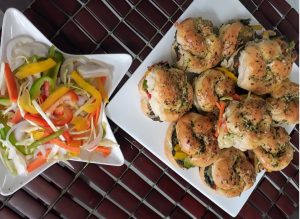 BASIL PESTO  
INGREDIENTS
Fresh basil leaves 2 cups
Garlic 6 cloves
Pine Nut/Walnut/Almonds 1/4 cup
Extra virgin olive oil 1/4 cup
Parmesan Cheese/Normal Cheese 1/2 cup
Small pinch of white pepper powder
Salt to taste
METHOD
Mix all the ingredients (basil,garlic, walnut), in a grinder.Make a coarse paste then add oil and cheese and blend to a smooth paste.Season with salt and pepper powder.