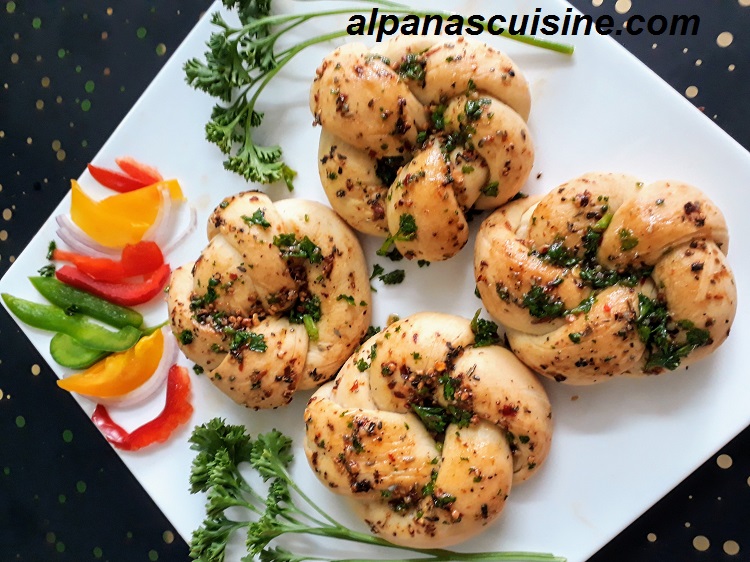 Herb Garlic Knots
Herb garlic Knots is a  Italian snack , is baked and topped with melted butter , herbs , roasted garlic and parsley.
INGREDIENTS :FOR DOUGH
Multipurpose flour 2 cups
Fresh yeast 1 teaspoon/Dry yeast 2 teaspoons
Sugar powder 2 teaspoon
Salt 1/2 teaspoon
Oil or butter 2 tablespoon
Lukewarm water 1/4 cup
Plain water 1 cup
Vanilla essence 1 teaspoon
 FOR TOPPINGS
Mixed herbs 1 tablespoon
Chopped Garlic (Roasted) 2 tablespoon
Parsley chopped 2 tablespoon
Butter 3 tablespoon
METHOD FOR KNOTS :
Step 1 -Take 1/4 cup of lukewarm water add 1 teaspoon sugar powder and yeast and mix well.Cover it and keep aside for 10 to 15 minutes.
Step 2 -Now take flour in a bowl ,add salt and remaining sugar powder and mix well.Now add yeast mixture and mix properly(dry).Then add water and vanilla essence  and knead a soft dough .Cover with damp cloth for  30 minutes or till dough become double.
MAKING OF KNOT SLIDERS BUNS
Step-3  Take the  dough  Knead 5 to 7 minutes on plain surface  till become soft.
Step-4 Punch dough down,divide into forth and cut each part into three more parts(total 12 )parts.
Step-5 Roll each portion into a log of approx size 6-7 inch.To form knots,tie into a  knot,tuck ends under side.Place all the rolls on greased tray,cover with damp cloth for  30 minutes or  it  doubled.
Step-6 Brush with salted water .Preheat the oven and bake for 20 minutes at 200 degrees.
Step-7  Mix melted butter,grated roasted garlic , Mix Herb and parsley  and then Spread over the knot buns.Bake at 180 degree for 3-4 minutes
SERVE HOT WITH  ANY SOUP OR SALAD