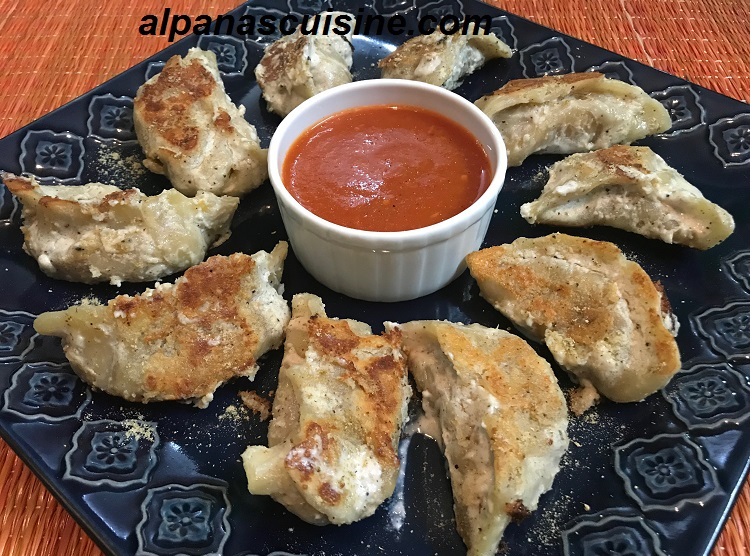 AFGHANI VEG MOMOS
Momos,these days have become the most loved street food in India.Momos are rich dumplings stuffed with variety of ground meat ,vegetables,paneer etc.Afghani Momos is the creamy version of tandoori momos.Momos served with hot spicy chutney.
INGREDIENTS:
VEG MOMOS
Grated Cabbage  1 cup
French Beans(Chopped)  1/4 cup
Onion chopped 1  /2 cup
Capcicum chopped 1/2 cup
Spring onion chopped 1/2 cup
Ginger grated  2 inch
Black pepper powder 1 table spoon
Soya sauce 1 teaspoon
Fresh coriander leaves (chopped)    2 table spoon
Butter 1 tablespoon
Vinegar 1 table spoon
Corn flour 1 table spoon
Green chillies chopped 1 tablespoon
Salt    to taste
DOUGH : 
Maida   250 gm (multi purpose flour)
Water      1 cup
Olive Oil  1  tea spoon
In a boul take maida,oil and salt and knead a soft dough by adding lukewarm water.
Cover the dough with damp cloth and keep for half an hour.
METHOD:
VEGETABLE FILLING :
Heat butter in a pan.Add onion and beans, saute for 3 to 4 minutes.Then add finely chopped all vegetables and saute for 7/8 minutes,so that water evaporates from veggies.Now add soya sauce,pepper powder,salt,corn flour and mix well.Turn of the heat,remove the mixture in a plate and allow to cool.
 MOMOS PREPARATION  :
Knead a dough again for a few minutes.Now make the equal size balls of the prepared momos dough.
Roll out dough into 4/5 inch diameter circle.
Place 1 tablespoon of vegetable filling in the center of the each rolled out circle
Now apply water on the sides of the the circle,lift from the one side and fold into meet ends at the other side like crescent moon shape.Lift both ends and overlap one ends to other to stick well.
Grease the steamer plate and place the momos between the gap of 1 inch.Cover the lid.
When steam starts coming on high heat,slow the heat for 10 minutes.The Momos are done when it looks shiny.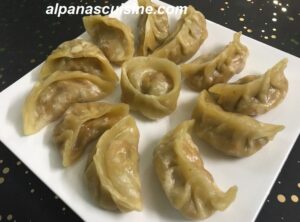 AFGHANI MARINATION FOR MOMOS
For 15 to 20 Momos ;
Cream 1/2 cup
Cashew nuts 1/2 cup
Thick curd  4 tablespoon
Melon seeds  1 tablespoon
Poppy seeds 1 tablespoon
Black pepper powder 2 teaspoon
Green cardamom powder 1/2 teaspoon
Salt to taste
 AFGHANI MOMOS PREPARATION
Soak cashew nuts,poppy seeds and melon seeds in water for half an hour,drain water and make a fine paste.
Ina bowl take curd ,fine paste,cream,black pepper powder,cardamom powder,salt and mix well.
Add Momos in the marination and leave for 1/2 an hour.
Then skewered the momos.
Then the skewers were placed in tandoor/oven/gas or tava.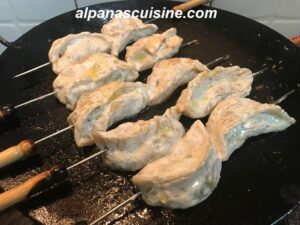 Time to time turn the  skewers till it golden brown.
Note:- you can add left over marination at the time of serving..
SERVE HOT MOMOS WITH SPICY TOMATO CHUTNEY.