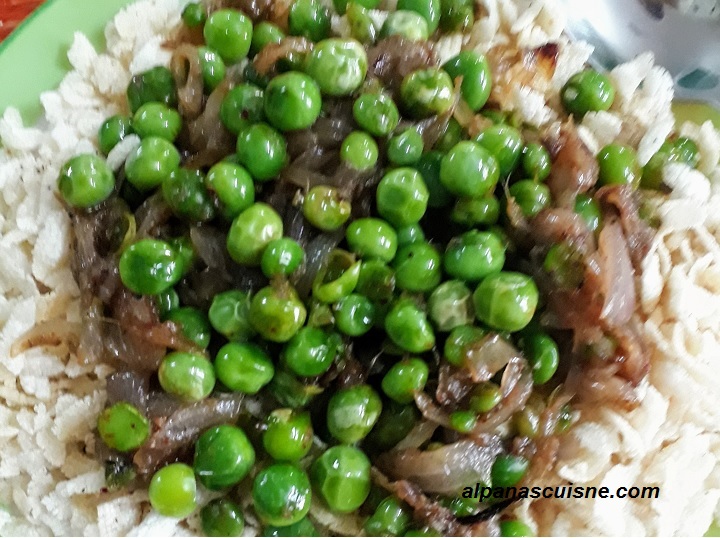 CHURA/ CHIVDA MATAR
Chura(Flattened rice) matar is very popular winter snack. This easily digestible form of raw rice is very popular across India  and is normally used to prepare snacks or light and easy fast food in a variety of Indian cuisine styles, some even for long-term consumption of a week or more.It is very tasty and easy to cook .People makes it in different style.But  I have followed my Moms style . Chura Matar is winter treat with fresh greens peas. Enjoy.
INGREDIENTS  :
Chura/Chivda 150 grams
Green Peas/Matar 250 grams(fresh)
Onion 2 sliced
Ginger grated 1 tablespoon
Green chillies 2 chopped
Black pepper powder 2 teaspoon
Oil for frying
Salt to taste
METHOD  :
Heat the oil and deep fry chura in small batches.(so that chura will remain white and of big size.)
Note :if you do not want to deep fry chura  then you can roast it in hot pan.
Keep aside,after cool down, add little salt and 1 teaspoon black pepper powder
Heat 2 tablespoon of mustard/olive oil,add onion,ginger, green chillies,saute for  2 minutes.
Then add Matar and salt cover and cook for 10 to 12 minutes.Now add black pepper powder and turn off the flame.If you are using frozen peas then cook for 5 to 7 minutes.
TO SERVE HOT IN A PLATE , FIRST PLACE CHURA AND TOPPED WITH MATAR. YOU CAN ALSO SERVE THIS DISH WITH HOT GINGER TEA.