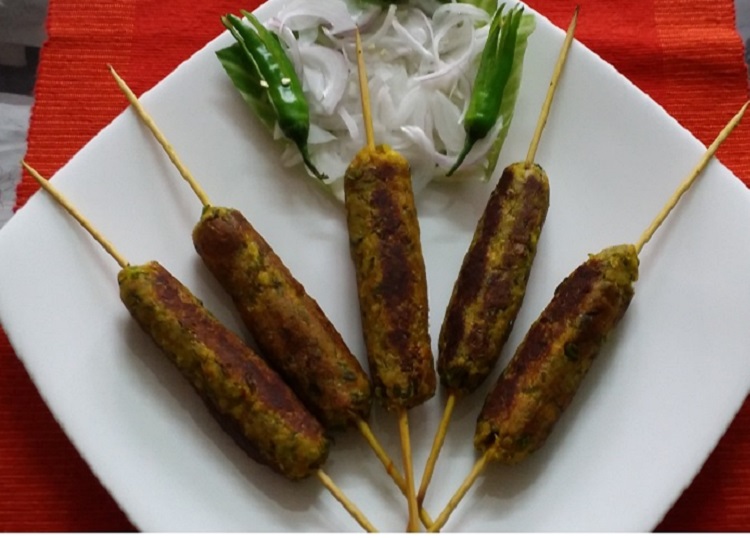 VEGETABLE SEEKH KABAB
Vegetable Seekh Kabab is one of the most popular vegetarian appetiser served at parties. Whether vegetarian or non vegetarian kababs are super delicious and perfect snack option as well as side dish.
Ingredients :
1 Cup mashed paneer ,2 medium potatoes(boiled and mashed), 1/2 cup green peas ,1/2 cup grated carrots ,1/2 cup chopped cabbage, 1/2 cup chopped French beans, 1 table spoon ginger grated, 1 table spoon green chillies chopped, 1/2 cup mint leaves chopped, 1 teaspoon garam masala powder, 1 teaspoon cumin powder, 1/2 teaspoon turmeric powder,  2 tablespoon butter, 2 tablespoon gram flour, salt to taste.
Method:
Heat the butter in a pan,add grated ginger and saute for a minute.
Then add beans,carrots , peas and cook for 2 to 3 minutes and keep aside for cooling
(after cooling of vegetable mixture ,grind it in the mixer for 30 seconds)
Now add green chillies,cumin powder, turmeric powder ,mashed potatoes, mashed paneer, salt and stir for 2 minutes. Turn off the flame.
Now add garam masala powder  chopped mint leaves and mix well
Now divide the the mixture in equal portion. Take each portion on palm and make a cylindrical shape,firmly press it around the skewers
Heat the non stick tawa or ceramic tawa ,put little oil and place the skewers on it
Cook the kababs on medium heat and rotate skewers occasionally,so that kababs cook evenly all around,Sometimes brushing with butter till kababs become golden brown ,(Do not put much  butter/oil because it will break the kababs)

Serve hot with curd coriander chutney and sliced onion