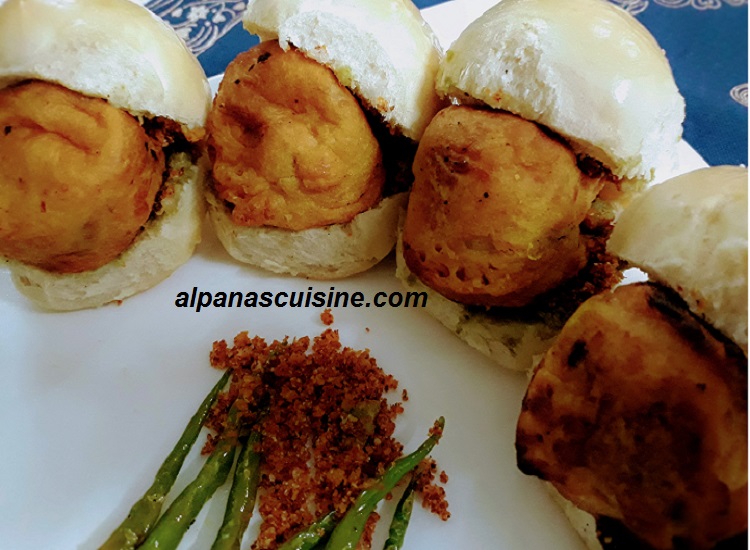 Vada Pav
Vada pav  is a vegetarian fast food dish of Maharashtra. The dish is a simple creation a deep fried potato patty with some coriander and spices, served in a bread roll (pav) with Chutney.
FOR PAV
Ingredients  : 
Multi purpose flour 1 cup
Dry yeast 1,1/2 teaspoon
Sugar powder 1 teaspoon
Salt 1/2 teaspoon
Butter 2 tablespoon
Luke warm milk 1/4 cup
Vanilla essence 1 teaspoon
Luke warm water 1/2 cup
Baking water 1/2 teaspoon
Milk and butter for brushing
Method :
In a 1/4 cup luke warm milk add yeast and sugar powder and mix well.Cover it and keep in the dark place for 10 to 15 minutes.After 15 minutes we will see the frothy layer on the top,if not then discard it .
In a bowl combine the plain flour,baking powder,butter and salt and mix well.Then add the yeast mixture and mix well(dry).Then accordingly add water and vanilla essence and  make  a soft dough.(Once kneaded,insert the fingertip into the dough and it should bounce back clean, that means dough is ready.)
Now cover the dough with damp cloth for 30 minutes.The dough will rise and double in volume.(after 30 minutes)
Again knead the dough by adding little flour if the dough is too sticky.
Divide the dough into equal portion and make a round shape (approx 6 nos)
Grease the baking tray and place the dough balls little close to each other and cover the tray for another 30 minutes.
Brush the top of the balls with milk /egg .
Pre heat oven at 200 degree,bake the pavs for 18 to 20 minutes or till done or get brown colour.
Take out Pavs from oven and and brush with butter.
VADA RECIPE  :
Vada Ingredients:-
Boiled and mashed potatoes 5 nos
Ginger and green chilli paste 2 tablespoon
Turmeric powder 1 teaspoon
Red chilli powder 1/2 teaspoon
Asafoetida a pinch
Dry mango powder or lemon juice 1 tablespoon
Fresh coriander leaves 1/2 cup
Salt to taste
Oil for frying
Batter Ingredients:
Gram flour 1 1/2 cups
Turmeric powder 1/2 teaspoon
Coriander powder 1 teaspoon
Red chilli powder1/2 teaspoon
Salt to taste
To make batter mix all the ingredients and keep aside.
Method for VADA:
Heat the 2 teaspoon oil  in a pan.Add asafoetida,all powdered masalas and ginger chilli paste and saute for 2 minutes.Then add potatoes,salt and mix well.Now ad coriander leaves and  keep aside to cool.
Make six balls from potato mixture
Heat the oil in a deep pan/ kadhai,dip the potato balls in the gram flour batter.and deep  fry the balls till golden brown.
DRY GARLIC CHUTNEY :
Garlic flakes 15
Peanuts 2 tablespoon
Coconut 2 tablespoon
Dry red chillies 5 nos
Coriander seeds 2 tablespoon
Sesame seeds 1 tablespoon
Salt to taste
Method  :
Dry roast all the ingredients ( light roast) ,when the mixture  cool down ,grind them           add salt to the mixture and  make a fine powder ,dry garlic chutney is  ready.
SERVING STYLE– Slit  pav partial not fully and spread green chutney inside the pav and in the lower side spread some garlic chutney ,place the vadas and press it . Serve with fried green chillies.