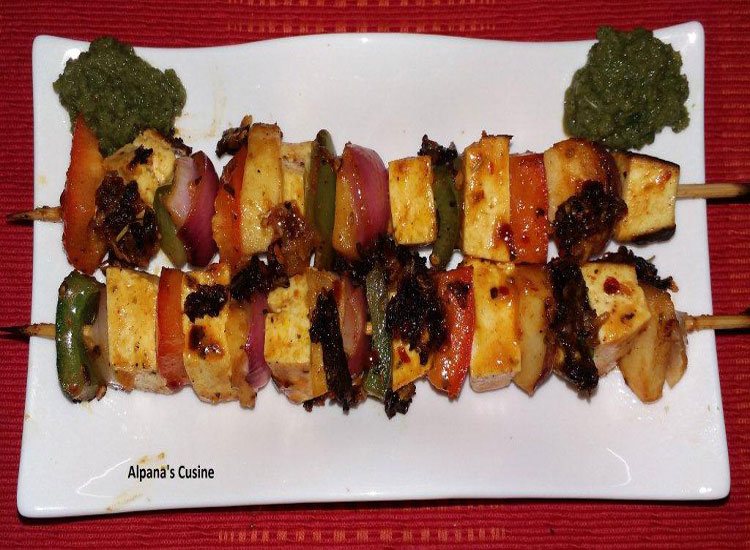 PANEER SHASHLIK
Paneer Shashlik is delicious and famous indian starter made with paneer ,vegetables, mustard paste, tomato sauce and fesh lime juice.It is a great party food.The  main  difference in this recipe is that in lieu of curd , mustard paste is used for marinade  and also add tangy taste.
INGREDIENTS
400 grams paneer
1 medium onion cut into 1 and 1/2 inch  cubes
1 medium tomato (pulp removed) cut in cubes
1 medium capsicum , 1 yellow and red bell pepper cut into  cubes
1 tablespoon mustard paste
1 tablespoon garlic paste
1 tablespoon tomato sauce
1 table spoon mixed herbs
1 tablespoon paprika powder
2 tablespoon lemon juice
2 tablespoon olive oil
salt to taste
METHOD
Cut the paneer into 1 and 1/2 inch  cubes
In a bowl take all the sauce ingredients and mix well
(except paneer and vegetables)
Thread the piece of tomato , onion and capsicum in the skewers follow the cube of paneer ,repeat this again and again in the skewers.
Now brush the sauce ingredients over it.
Now heat the oil in a little deep and flat type of pan, place the skewers of paneer,grill and roast it on the pan from all the sides.
SERVE HOT  WITH SPICY AND TANGY RADISH CORIANDER CHUTNEY
Tip:–  For good result use home made paneer with your favourite Vegetables.