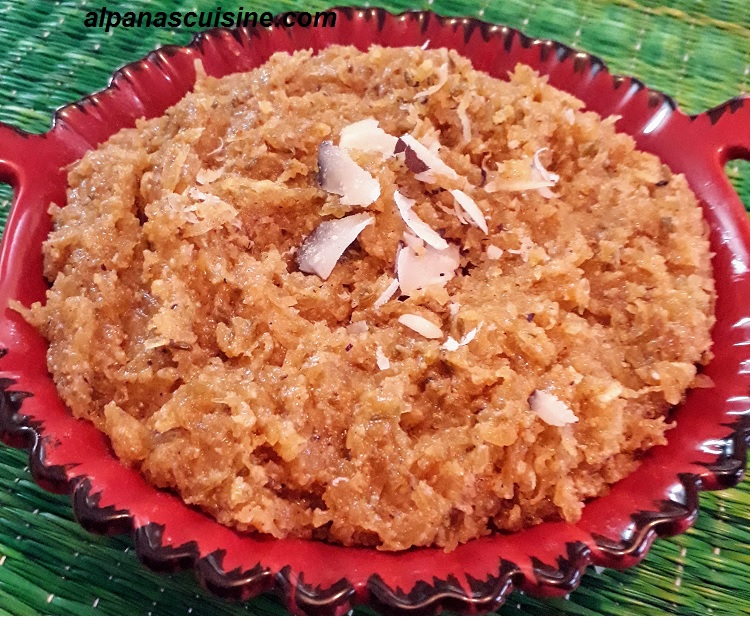 RAW PAPAYA HALWA
Raw/Green Papaya is a powerful fruit,full of nutrients and enzymes to promote digestive health.Raw papaya has lots of health benefits with some side effects for sensitive persons due to high concentration of papain enzymes. Enzymes normally have bitter taste. So we should keep the Raw  pieces of  papaya in hot water for 3-4 minutes  before grating.  the  Raw Papaya Halwa is very nutritious,tasty and sweet delicacy.
INGREDIENTS :
Raw Papaya 700 gram
Sugar 300 grams/ Jaggery
Full cream milk 1 ltr
Pure ghee 4 tablespoon
Fennel seeds 1 teaspoon
Desiccated coconut 2 to 3 tablespoon
Cardamom powder 1 teaspoon
METHOD :
Peel , Cut into slices and dip these slices  in hot water for 3-4 minutes before grate . This will reduce the bitterness .
Heat ghee in a pan,add fennel seeds ,saute then add grated raw papaya.Cook for 7 to 8 minutes.
Now add milk and cook till moisture dries up and leaves ghee from sides.(When we add milk and milk starts to boil,it will curdle,keep stirring)
Add  sugar and mix well.Cook till the sugar dissolves completely.
Add cardamom powder and  desiccated coconut and mix well.
GARNISH WITH CARDAMOM POWDER AND DESICCATED COCONUT.