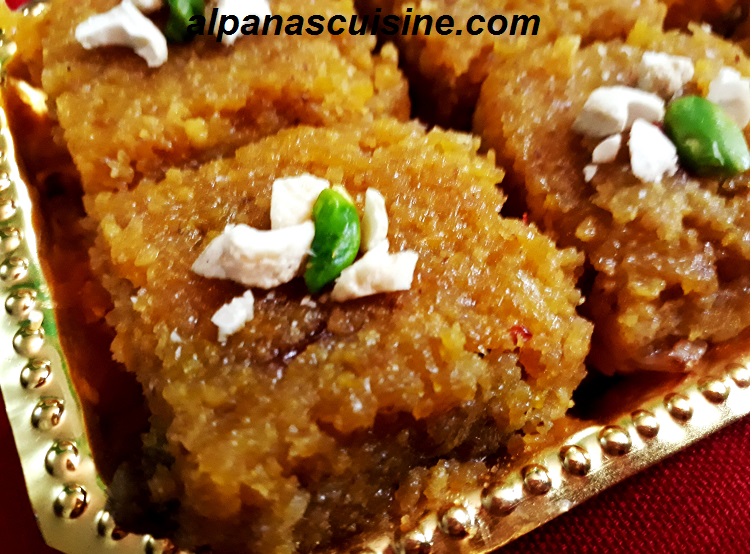 GOBHI KI BARFI
This sweet dish is one of the favourite sweet dish cooked in Jorasanko, where the great poet Rabindranath Thakur resided.This dish was invented by his niece on his 50th birthday.Cauliflower barfi is very tasty and easy to make.
INGREDIENTS :
Cauliflower florets 350 grams
Khoya/mawa 175 grams
Sugar 150 grams
Pure ghee 3 tablespoon
Saffron soaked in 1/4 cup milk.
Green cardamom powder 1 teaspoon
Cashew nuts 1 tablespoon( chopped)
METHOD :
Wash the cauliflower florets.Boil the florets in water till it is cooked.Remove and drain the water completely,keep aside.
Soak the saffron in hot milk.
Heat the ghee in a pan and fry raisins light golden,remove and keep aside.
Make a coarse paste of cauliflower florets in a grinder.
Now add cauliflower paste in the pan in which we fried raisins,saute it on a low heat and stir continiously and cook it for 7 to 8 minutes.
Now add khoya and keep strring till it melted and become light pink.
Then add sugar and mix well till it dissolve on low heat.
Now add saffron milk,cardamom powder and raisins,stir and cook till mixture become thick and dry.
Grease a thick plate and pour the mixture into the plate and spread it nicely.
Garnish with chopped cashew nut.When it cool down completely , cut into square pieces or desired shape.
Note:-This dish is inspired by "Lost Recipes" of EPIC CHANNEL.