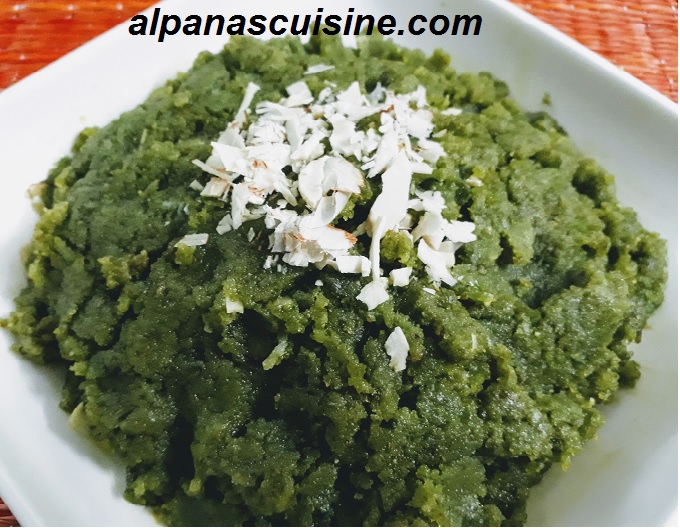 HARE CHANE KA HALWA
Hara chana or Choliya ka halwa is a rich and sweet dessert which can be prepared for any special occasion . It is a simple recipe with full of Vitamin A  & C  and  taste is  also rich.
Hara chana halwa tastes super because of  pure  ghee . Aroma of ghee in sweets is also very tempting. But you can adjust quantity  of ghee as per your taste.
INGREDIENTS:-
 Hare channa  1/2 KG
Ghee  1/2 Cup
Fresh cream  1 cup
Sugar  1 Cup
Green cardamon Powder- 1 teaspoon
Chopped Almond and Cashew Nut-  1 tablespoon
METHOD:-
Rinse green chickpea thoroughly with water. Drain out excess water from it. Dry out them completely. Then grind the  green peas in coarse paste .
Thinly slice almonds and Cashew nut  keep them in separate bowls. Peel green cardamom and crush its seeds into fine powder.
Place a thick bottom pan  on flame and pour some ghee into it. Keep some ghee for later use. Once the ghee is melted, add green chickpea paste into it. Keep stirring continuously and roast the green chickpea paste until there is a change in colour and becomes fragrant. Keep the flame on medium-low.
Ghee is separating from the edges of the green chickpea paste. It is now roasted well. Keep the flame on low and add Fresh cream and sugar into it. Mix it really well. Let it cook until it starts simmering.
Once the halwa starts to simmer, cook it until it turns thick in consistency. Stir it at regular intervals. Now add green cardamom powder into it. Mix all the ingredients really well.Now halwa have turned thick. Pour some ghee on it. Mix it really well.
Serving:
Pour a tbsp of melted ghee on the halwa and sprinkle cashews, almonds and pistachios as well.  You can store it in refrigerator and have it within 3-4 days.