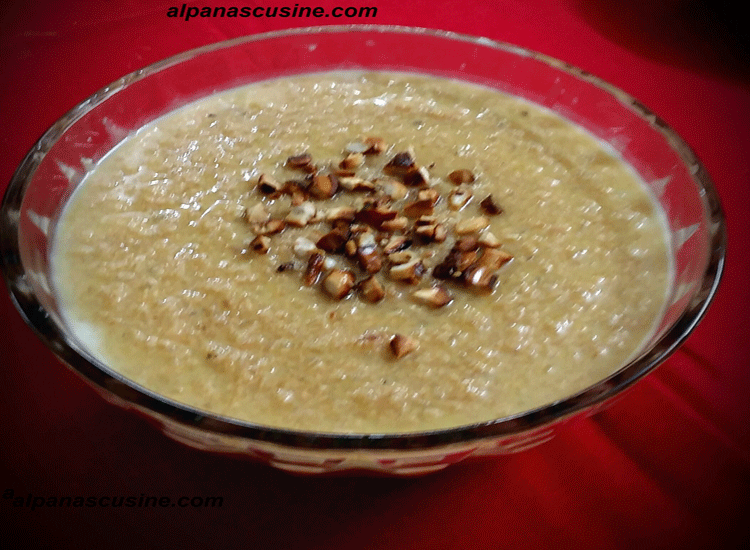 GOBHI KI KHEER
There are many types of kheer (sweet dish) in Indian Cuisine but Gobhi Ki Kheer is a unique sweet dish.Its tastes is awesome and it is a healthy substitute for Rabri.It is very delicious and easy to make.Try Gobhi Ki Kheer and enjoy it.
INGREDIENTS  
Gobhi(Cauliflower) 1 medium size
milk 1  litre (full cream)
sugar powder 6 tablespoon or 1/2 cup
pure ghee 2 tablespoon
green cardamom powder 1 teaspoon
chopped cashewnuts 2 tablespoon
water 2 cups
METHOD  
Boil milk in a heavy bottomed pan for 20 to 25 minutes or milk become reduced half of the volume.
Cut Cauliflower and  take the florets only.Wash properly and use only flower portion.
Boil water in a pan ,add florets and stir for 2 minutes then drain
Dry the florets on a tissue paper or on a clean cloth and grate cauliflower florets
Heat the ghee in a pan and fry chopped cashewnuts light golden ,remove and keep aside
In the same pan add grated cauliflower and cook on medium heat till light golden or raw smell fade away
Now add fried cauliflower into boiling milk and mix well .After 15 minutes add powdered sugar,Cook for 30 minutes or it become thick.,keep stirring in between so that kheer does not stick on the bottom of the pan.
Add cardamom powder and mix well
Garnish with fried cashewnut and serve chilled.