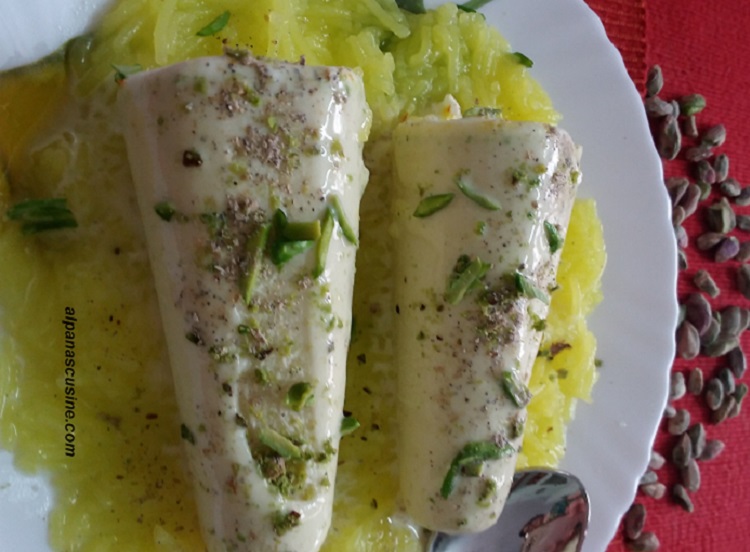 KULFI FALOODA
Kulfi is very popular dessert, specially in summer.When we make the combo of Kulfi with Falooda it turn out to be awesome.Beat the heat with this special home made Kulfi Falooda.
INGREDIENTS : FOR KULFI
Full cream milk 1 ltr.
Fresh cream 1 cup
Cornflour 3 tablespoon
Pistachio paste 2 tablespoon(12 to 15 soaked in milk)
Sugar 8 tablespoon
Green cardamom powder 1 teaspoon
Saffron 1/2 teaspoon
Pistachios(chopped) 1 teaspoon
INGREDIENTS FOR FALOODA
Cornflour 1 cup
Water 3 cups
Sugar syrup 1/2 cup
Rose water 1/2 teaspoon
METHOD : KULFI
Mix saffron in warm milk and keep aside
Also mix the cornflour in the 1/2 cup of milk,mix well and keep aside
Boil the milk in the heavy bottomed pan and reduced it to 1/3 of its original quantity
Then add sugar,saffron milk and cornflour slurry ,till sugar dissolves and milk thickened. Cool it completely
Now add pistachio paste and cardamom powder and mix well
Now take 1/3 of thickened milk ,churn in mixer or with hand blender.after that add 1/3 cream to it and again churn very well
In the same way,churn the left two parts of thickened milk and cream
Now pour the mixture in the kulfi mould and freeze for 7/8 hours.
METHOD  :  FALOODA
Take the cornflour and water and mix it well till it become smooth batter
Cook on medium or low flame till it become transparent or thick
(if you want coloured falooda then add Food colour of your choice before cooking)
Place the hot mixture in the sev/noddle maker. Before filling we have to fit the jalie(Nozzle) of medium size hole.
Take cold water and ice pieces in a bowl and press the sev maker  directly in the water and leave for 10 to 15 minutes. The quantity of water is sufficient to dip falooda.
SERVING STYLE
Strain falooda and dip into the  cold sugar syrup & rose water
In a plate arrange the kulfi /Kulfi pieces evenly over  falooda and garnish with chopped pistachios  and SERVE IMMEDIATELY