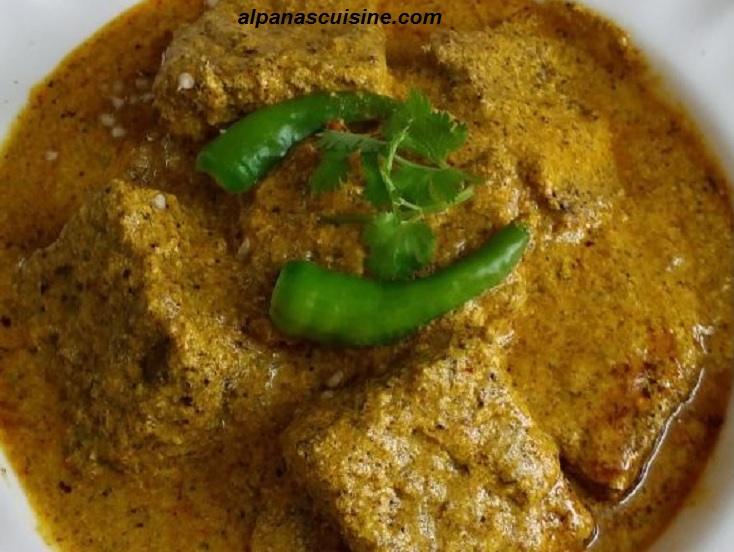 SEPU VADI
Sepu Vadi is very famous Himachali dish.In my short trip to Kasauli, I  tried and tasted  famous himachali dish SEPU VADI which was really awesome.Back at home , I  tried Sepu Vadi that turned out simply mouthwatering.This dish cooked mostly on wedding occasion in Himachal .Normally this dish  made in spinach , curd gravy but I  have made it in curd only. Sometime they also made without spinach,
INGREDIENTS  : For Vadi
Black gram(Sabut Urad) 1 cup
Pepper Corn (crushed) 1 teaspoon
Fennel seeds (crushed)1/2teaspoon
Salt to taste
Oil for frying
INGREDIENTS : For Gravy
Curd 1,1/2 cup
Pure ghee 3 tablespoon
Green chillies 2
Green cardamom 2
Cloves 5
Cinnamon 1 inch
Bay leaf 1
Jaiphal(Nutmeg) – small piece
Turmeric powder 1/2 teaspoon
Red chilli powder 1/2 teaspoon
Fennel powder 1/4 teaspoon
Coriander powder 1 teaspoon
Cumin seeds 1 teaspoon
Lemon juice or ENO
Salt to taste
Water accordingly
METHOD :For making Vadi
Wash and soak Black Gram for 4 to 5 hours
Make a fine paste of dal in a grinder and leave for 1/2 an hour(you can keep the paste for 2 to 3 hours for ferment if you do not want to use eno
)Mixed well to make to make it lighter then add crushed pepper corn,fennel seeds and salt.
Steam the dal mixture in steamer for 10 to 15 minutes or check it with toothpick ,if it comes out clean out means it has been done ,after cool down cut into square pieces
Deep fry the vadi pieces till golden brown,and keep aside.
METHOD :For making gravy
Dry roast the black peppercorn,bay leaf,cinnamon,cardamom(both),and jaiphal and crushed.
Heat ghee in a pan,add cumin seeds and chopped .When they start spluttering add all the powdered masalas and turn off the flame(so that the spices will not burn.)
Now add whisked curd, add fried sepu vadis,water and simmer for 5 to 6 minutes.When the gravy is well combined then turn off the flame.
SERVE HOT WITH STEAMED RICE OR CHAPATI