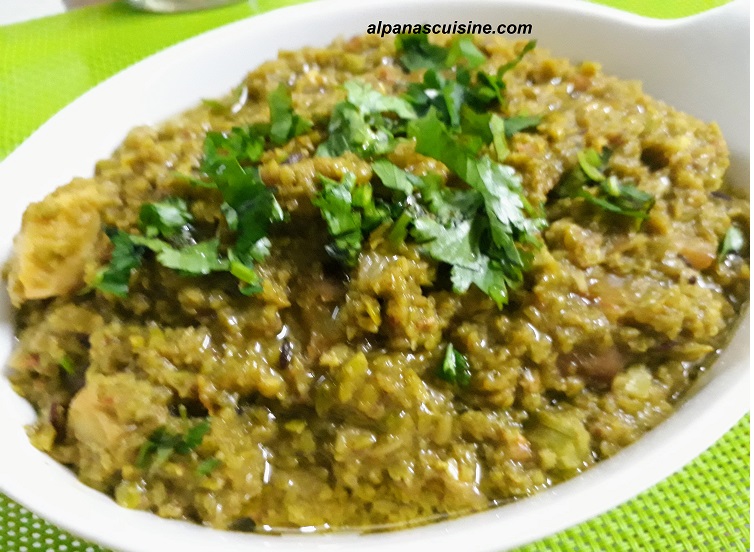 MATAR NIMONA
Matar(green peas) ka Nimona is a winter special tasty dish.It is a speciality of Uttar Pradesh.There are many variations of making matar ka nimona.It can be with potato or with  stew only or with vadi,or with spinach. In this matar ka nimona, I  have added fried potato cubes with fresh green peas paste.This recipe is cooked in pure ghee and mustard oil which gives it a very distinct flavour.
INGREDIENTS :
Fresh green peas 2 cups(peeled)
Potato medium 1(cut in cubes)
Onion medium 1  (chopped)
Tomato medium 1 (chopped)
Ginger 1 tablespoon
Garlic 1 tablespoon(optional)
Green chillies 2
Coriander powder 1 teaspoon
Cumin powder 1 teaspoon
Garam masala powder 1 teaspoon
Asafoetida a pinch
Cumin seeds 1 teaspoon
Salt to taste
Mustard oil 2 tablespoon
Pure ghee 2 tablespoon
Water 1 cup
Bay leaf 1
Coriander leaves 1 tablespoon
METHOD :
Grind the peas with green chillies in two parts.One part is fine paste by using water and make other part is roughly coarsed paste.
Heat the mustard oil in a pan ,add potato cubes till golden brown,drain and keep aside.
Now add cumin seeds and bay leaf,when starts spluttering add onion, ginger garlic paste till the raw aroma  goes away.
Now add coriander, cumin powder,tomato and salt and saute for 3to 4 minutes.
Then add green peas paste cook till its raw aroma goes away. Add ghee and water and mix well(amount of water depends upon the thickness of gravy you want)
When gravy starts boiling add fried potatoes and cook on medium heat for 5 to 6 minutes.Add garam masala powder and turn off the flame.
Garnish with fresh coriander leaves with small amount of pure ghee and serve hot .It  goes well with poori, paratha and rice.