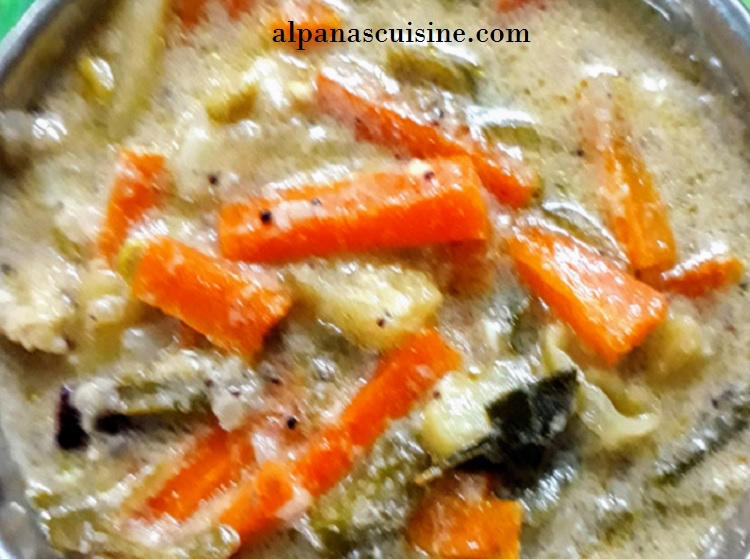 VEGETABLE STEW IN COCONUT MILK
This delicious vegetable stew cooked in a fresh coconut milk with full of fresh colorful veggies.
INGREDIENTS:-
Onion 1 sliced
Carrot 1 Small (Cut into 1 1/2 inch long)
French beans 8-10 nos( cut into 1 1/2 inch long)
Potato 1 medium ( cut into 1 1/2 inch long)
Cauliflower separated into florets ( 1/2 cup)
Fresh Green peas 1/2 cup
Green chillies – 2 nos ( slit /chopped )
Ginger 2 teaspoon (chopped)
Coconut Milk  1 1/2 cup (fresh)
Oil – 1 tablespoon
Salt- to taste
Curry leaves- few leaves
Cinnamon- 2 inch long, Cloves- 5 nos , Black pepper- 1 teaspoon
METHOD:-
Blanch carrot, cauliflower,beans & green peas individually in boiling water .
Refresh in cold water immediately to retain its original color and set aside.
Heat oil in a pan and add whole spices, curry leaves let them splutter.
Add the onion ginger and saute well till onion become translucent.
Now add vegetables, salt and  crushed pepper  and saute for a minute.
Add  1 cup  coconut milk with water . 1/2 cup will be used later, Cover the pan and cooked till veggies are soft around 10-12 minutes.
Now open the lid and add remaining the coconut milk and mix well.
Let simmer for few minutes but not boil them.
Serve hot with Chapati/ Garlic bread .