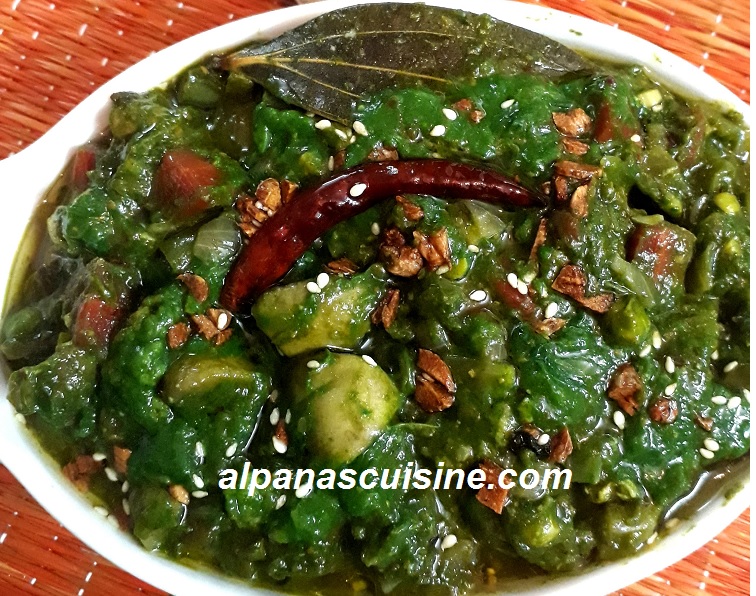 SUBZ MILONI
Subz Miloni is not  just another type of  mixed veggies with  some spices but actually it is most healthy  dish  that I can recommend to anyone .I had visited in a restaurant where I had tested .That dish was so tasty  & I tried it at home and it came out super yum.Enjoy this dish with Garlic Naan & Sirke wale pyaz
INGREDIENTS
Spinach 500 gm
Onion 2(chopped)
Mushrooms 10 pc
Cauliflower 100 gm
Carrot 100 gm
Green Peas 100 gm
French beans 100 gm
Tomato 1 (chopped)
Garlic 2 tablespoon (chopped)
Cumin seeds 1 teaspoon
Coriander seeds 1 tablespoon (crushed)
Green chillies 2
Pure ghee 2 tablespoon
Garam masala powder
Gram flour 2 tablespoon
Dry red chillies 2
White sesame seeds 1/2 teaspoon
METHOD  :
Wash and clean spinach.
Boil water in a pan,add spinach,let it boil for 1 minute,drain and immediately put into chilled water.
Once cooled,drain and make a puree of spinach,keep aside.
Wash and cut the mushrooms in 1/2 inch cubes,scrap and cut the carrots into 1/2 inch cubes.string the beans and cut into 1/2 inch cubes,saperatethe cauliflower into small florets.Blanch all the chopped vegetables into boiled water drain and keep aside.
Heat the 1 tablespoon of ghee in a pan,add cumin seeds,when starts spluttering add chopped onion,saute till it become translucent.
Now add 1 tablespoon chopped garlic,saute for a minute,then add crushed coriander seeds and gram flour and saute for another 2 minutes.
Now add blanch veggies,green chillies ,tomato and salt,cook for few minutes
Now add spinach puree ,cover and cook for 4/5 minutes or till the vegetables done add garam masala and turn off the flame.
TEMPERING  ;
 Heat the remaining ghee in a small pan,add 1 tablespoon garlic.When garlic become light brown add sesame seeds and dry red chillies and pour over the subz miloni and serve hot with garlic naan.
GARLIC  NAAN
In a bowl take 1 cup of multi purpose flour(maida),1/2 teaspoon baking soda,1/2 teaspoon sugar /powder,1/2 cup yogurt,salt to taste,2 tablespoon oil,1/2 cup milk or lukewarm water.
Mix all the ingredients together,then add water gradually to make a soft dough but not sticky.
Apply little oil to the dough and cover with damp cloth,and keep the dough for 2 hours.
Now divide the dough into equal  parts,cover the balls and let it sit for 10 minutes.
Now take chopped garlic and coriander leaves and stick on one side of dough balls.
Then roll the naan on lightly floured surface into 1/4 inch thick.Sprinkle the water lightly on one side of the naan.
Heat the tawa on the medium heat,put water side naan over tawa,once the naan starts bubbling,turn the tawa over the medium flames to cook the naan from the top.
Once the naan become browned,it will automatically fall or remove it and spread the butter over it.