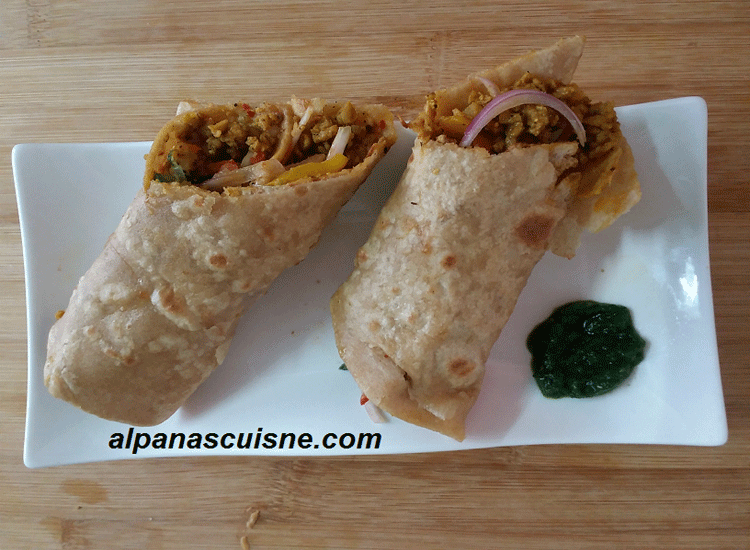 SOYA KATHI ROLLS
Soya kathi rolls are very tasty and healthy rolls.Soya nuggets are a very good source of protein.My son always wanted to eat rolls from market.But i tried to make it at home and he liked it very much.I am sure everyone from kids to grown up will like it.Soya kathi rolls are the perfect weekend snacks.
INGREDIENTS  :
Whole wheat flour chapatis 4
Soya granules  1 cup
Onion 1 (sliced)
Turmeric powder 1 teaspoon
Coriander powder 2 teaspoon
Red chilli powder 1 teaspoon
Garam masala powder 1 teaspoon
Oil 1 tablespoon
Salt to taste
Coriander leaves 2 tablespoon
Thick curd 4 tablespoon
VEGETABLES FOR FILLING
Onion sliced 1/2 cup
Carrot 1 cup (cut in julienne)
Bell peppers 1 cup(cut in julienne)
Spring onion 1 cup (thinly sliced)
Cabbage 1 cup (thinly sliced)
Green chillies 2 tablespoon (chopped)
Black pepper powder 1 teaspoon
Tomato and chilli sauce
Salt to taste
METHOD
Boil water in a pan,add soya granules ,salt and boil for 5/6 minutes.Rinse soya granules in cold water two times and squeeze excess water.
Heat oil in a pan.Add onions and saute till it becomes soft.Then add ginger +garlic paste and saute till raw aroma goes away.
Now add all the powdered masalas and mix well.
Then add soya granules and cook for 5 minutes.Then add thick curd ,salt and garam masala and mix well.
SAUTEED VEGETABLES FOR FILLINGS
Heat 1 tablespoon oil in a pan ,add half onion and carrots and saute for 2 minutes.
Then add bell peppers,cabbage,salt and pepper powder and cook 3/4 minutes.Turn of the flame and keep aside.
PREPARATION OF KATHI ROLL
Heat the griddle ,drizzle some oil and toast the chapatis till light golden.
Now keep the toasted chapatis on the work top.Place some soya granules mixture ,then sauteed vegetables ,remaining sliced onion,green chillies,1 tablespoon tomato sauce,1/2 tablespoon chilli sauce,salt,pepper powder and sprinkle lemon juice.
Then roll the chapati and serve hot with any sauce /chutney.