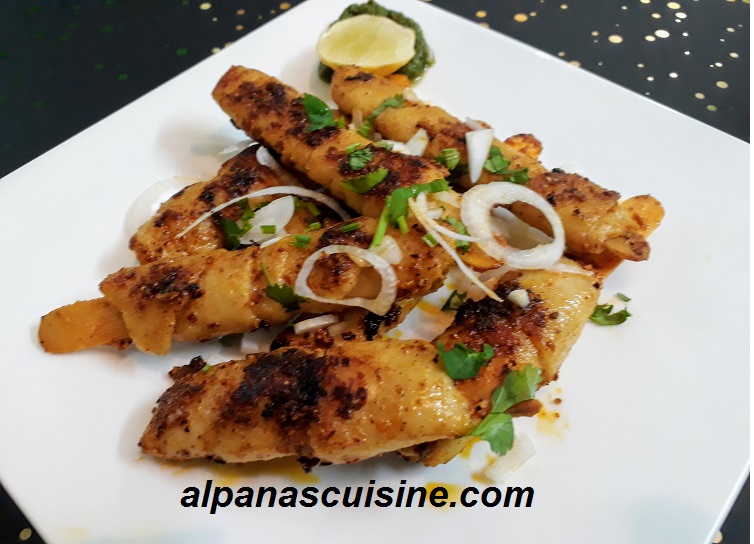 SOYA CHAAP TIKKA MASALA
Soya chaap, a Northern Indian dish is enriched with proteins and is appealing and tempting to eat. This recipe  is a pure vegetarian dish but is considered equivalent to non-vegetarian dishes. Home made Soya Chaap Tikka Masala is a tasty  snack .
INGREDIENTS :
Soya chaap
Soyabean 1/2 cup
Soya chunks 1/2 cup
Multi purpose flour(maida)1/2 cup
Water 1/2 cup(or as required)
Salt to taste
Sticks 7/8
Tikka Masala
1 cup hung curd
1/2 cup cream
1 teaspoon turmeric powder
2 tablespoon kashmiri mirch
1 tablespoon ginger
1 tablespoon garlic paste
salt to taste
lemon juice of 1 lemon
mustard oil 1 tablespoon
1 teaspoon garam masala powder
METHOD :
Soya chaap
Soak the soyabean in water overnight and grind it in a fine paste.
In a pan boil soya chunks for 7/8 minutes , squeeze it and make a fine paste.
In a bowl mix soya bean paste and and soya chunks paste and salt.
Now slowly add maida to this paste and knead a dough.If required add  little water
Divide the dough in equal size ball.And roll out the dough ball like chapati and cut into long strips
Roll the strips on to the sticks ,you can double it.
In a big bowl take water and bring it to boil,when boiling starts add soya chunks sticks and boil it for 8 to 10 minutes or till it starts floating in water.
After that take out the soya sticks from hot water and then dip into cold water  ,leave for few minutes in the cold water.
Then out from cold water ,soya chaap is ready.
Soya Chaap Tikka Masala  :
Mix tikka masala ingredients and rub  masala over the chaap sticks .
Now heat the butter in a non stick pan ,shallow fry Tikka masala chaap sticks till golden brown .
SERVE HOT SOYA CHAAP STICKS WITH ONION SLICES AND SPRINKLE  CHAAT MASALA  .