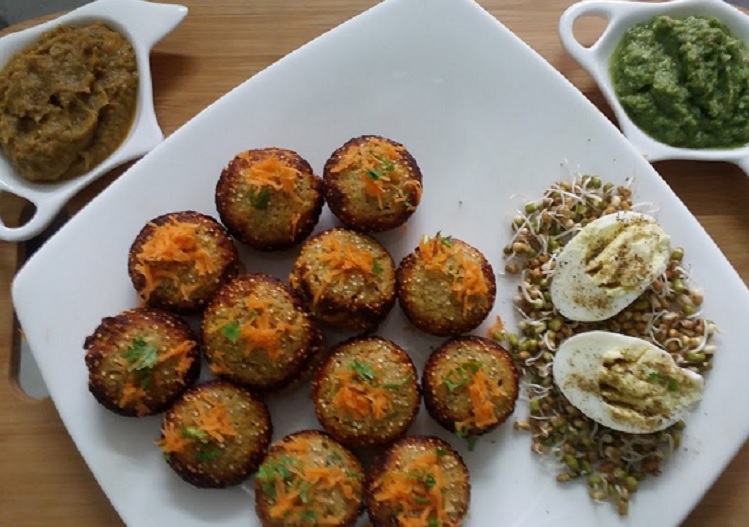 QUINOA DAL PANIYARAM
Quinoa, a superfood becoming very famous these days.Quinoa is a grain like seeds is very versatile.It is a high in protein and fiber,gluten free ,whole grain with a nutty flavour.It is a quick cooking whole grain.Quinoa Dal Paniyaram is very a perfect wholesome breakfast or snack.
INGREDIENTS  :
Quinoa 2 cups
Split bengal gram  1 cup
Pigeon pea   1 cup
Split green gram 1 cup
Split black gram  1 cup
Onion chopped 1 medium
Carrot grated 1 medium
Green chillies chopped  2
Coriander leaves 1 tablespoon
Curd 2 cups
ENO 1 tablespoon
Salt to taste
Water as required
Oil
METHOD  :
Step 1  _ Give a good rinse to Quinoa before cooking otherwise the grains become bitter.
Step  2 _ Now combine all the dals and lightly roast them in a dry pan .Allow to cool and grind them in a fine powder.
Step  3 _ In a bowl take dal powder , add curd ,salt and water if required and mix well.Leave for 1/2 an hour.
Step  4 _ At the time of making Paniyaram add onion, carrot,green chillies,coriander leaves and ENO to the Quinoa Dal batter and mix well.Leave for 5 minutes.Batter must be of medium consistency not very thick or thin.
Step  5    Heat the Paniyaram pan ,pour 2 drops of oil ,ad the spoonful of the batter till 3/4 of the mould ,cook the Paniyaram till they become golden brown from both sides (on low heat).
Serve hot with Mango+mint+garlic and Raw banana peel chutney.