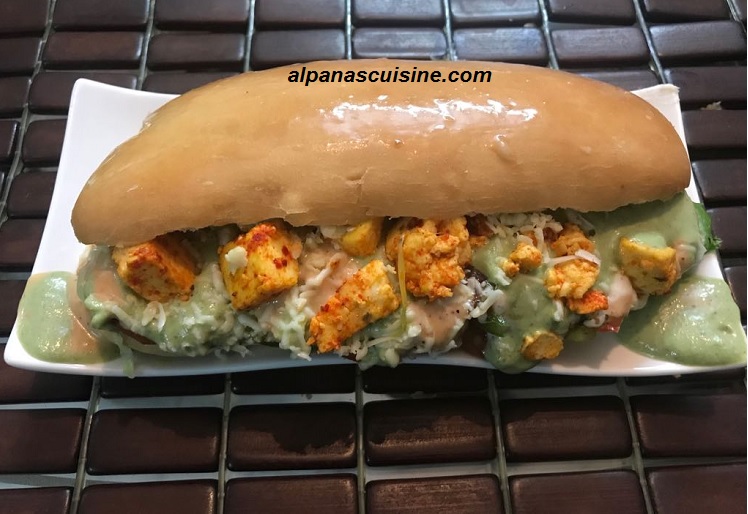 PANEER TIKKA FOOTLONG SANDWICH
We have celebrated weekend  with our son and on his demand "Paneer Tikka Footlong Sandwich'" Subway style with home made Paneer, Bread and Mayonnaise.Foot long means 12″ long bread very famous nowadays. I had prepared this bread in house because home made Bread are nutritious and low in fat.
INGREDIENTS :
Foot long bread 2 pcs
Paneer( homemade) 200 grams
Onion 1 medium
Cucumber 1 medium
Tomato 1 medium
Bell peppers (red,green yellow) 1 cup
Cabbage 1/2 cup
Lettuce 1/2 cup
Mayonnaise (homemade) 1 cup
Tomato sauce 2 tablespoon
Mustard sauce 2 tablespoon
Cheese slice / shredded
Salt to taste
Mixed herbs/oregano
Chilli flakes(optional)
Butter 1 tablespoon
METHOD OF MAKING OF BREAD :
Multi purpose/multi grain flour 2 cups
Dry yeast/2 teaspoon
Sugar powder 1 teaspoon
Salt 1/2 teaspoon
Butter 2 tablespoon
Vanilla essence 1 teaspoon
Luke warm water 1/2 cup
Milk and butter for brushing
Method :
In a 1/4 cup luke warm water add yeast and sugar powder and mix well.Cover it and keep in the dark place for 10 to 15 minutes.After 15 minutes we will see the frothy layer on the top,if not then discard it .
In a bowl combine the plain flour,butter and salt and mix well.Then add the yeast mixture and mix well(dry).Then accordingly add water and vanilla essence and  make  a soft dough.(Once kneaded,insert the fingertip into the dough and it should bounce back clean, that means dough is ready.)
Now cover the dough with damp cloth for 30 minutes.The dough will rise and double in volume.(after 30 minutes)
Again knead the dough by adding little flour if the dough is too sticky.
Divide the dough into 2 portion .Roll each portion of dough into a long skinny loaf that is about 9 to 10 inches long .Grease the baking tray and place the loaves.Allow 2 inches gap between each loaf .Cover the loaf with damp cloth.Allow the loaves to rise until double for an hour.
Brush the top of the loaves with milk /egg /salted water.
Pre heat oven at 180 degrees,bake the loaves for  22 to 25 minutes or till done or get brown colour.(leave loaves  for 5 minutes inside the oven to get brown colour after turn off the oven)
Take out  from oven and and brush with butter
METHOD OF MAKING MAYONNAISE  :
Full cream milk /cream(chilled) 1/4 cup
Olive oil 1/2 cup(chilled)
Sugar 1/2 teaspoon
Salt to taste
Mustard powder 1 teaspoon
Black pepper 1/4 teaspoon
Lemon juice 1 teaspoon
Vinegar 1 teaspoon
METHOD OF MAKING EGGLESS MAYONNAISE
In a mixer/jar first add milk,sugar,salt,mustard and black pepper powder and churn.Open the jar and add lemon juice,vinegar and chilled olive oil and churn again till it become thick.In between check two times for thickness of mayonnaise.When it become thick your sauce is ready.
METHOD OF MAKING PANEER TIKKA
In a bowl take 4 tablespoon of hung curd,add 1 tablespoon ginger garlic paste,1 teaspoon kashmiri mirch,1 tablespoon lemon juice,1 tablespoon garam masala powder,1 tablespoon mustard oil ,salt to taste and paneer cubes.Mix all the ingredients and leave for 1/2 an hour in the refrigerator.Now heat the oil in a pan,add marinated paneer and cook for 5 to 6 minutes.
METHOD OF MAKING FOOTLONG BREAD:
Cut the horizontal half of the bread /footlong
Arrange the sliced vegetables on the base of the slice.
Spread sauces,mayonnaise,mixed herbs/oregano and paneer tikka and cover with another slice of bread.Spread some butter on the top of the sandwich.
PANEER TIKKA FOOTLONG SANDWICH IS READY