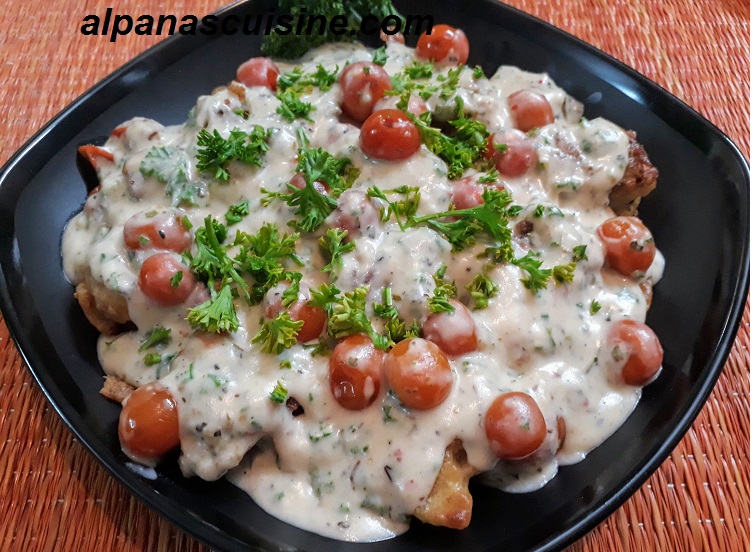 MUSHROOMS IN GARLIC HERB SAUCE
Mushroom in herb sauce  is so rich and its  taste  is so good and delicious ladled over cherry tomatoes  and roasted garlic . Mushrooms are an ideal low-energy diet for diabetes   appears to decrease the risk of obesity , heart disease and improve bone health . It  has high , Anti oxidants so  good for health and prevent from many disease. This dish is  very  healthy snack.
INGREDIENTS  :
Mushrooms 25 pc
Multipurpose(maida) flour 1 cup
Corn flour 1/4 cup
Egg white (2 eggs)
Ginger 1 tablespoon(chopped)
Garlic 1 tablespoon (chopped)
Butter 2 tablespoon
Mixed herbs 1 teaspoon
Black pepper powder 1 teaspoon
Parslay 1 tablespoon (chopped
Milk 1/2 cup(accordingly)
Maida 2 tablespoon
Oil for frying
Salt to taste
METHOD  :
In a bowl take maida,corn flour,baking soda ,salt and mix well.Then take egg white,mix and add to the batter
Wash the Mushrooms with hot water and then with vinegar and pat it dry with kitchen towel.
Now cut the Mushrooms into halves.Add Mushrooms into the batter,deep fry it till golden brown.
Now heat the butter in a pan,add two tablespoon of maida, fry it for 2 to 3 minutes
Then add chopped ginger, garlic,cherry tomatoes and saute for few minutes
Then slowly add milk and make medium thick sauce.Add salt,pepper powder,mixed herbs and parslay.
Take a serving dish,place hot fried Mushrooms and topped it with hot herb sauce.
GARNISH WITH FRESH PARSLEY.