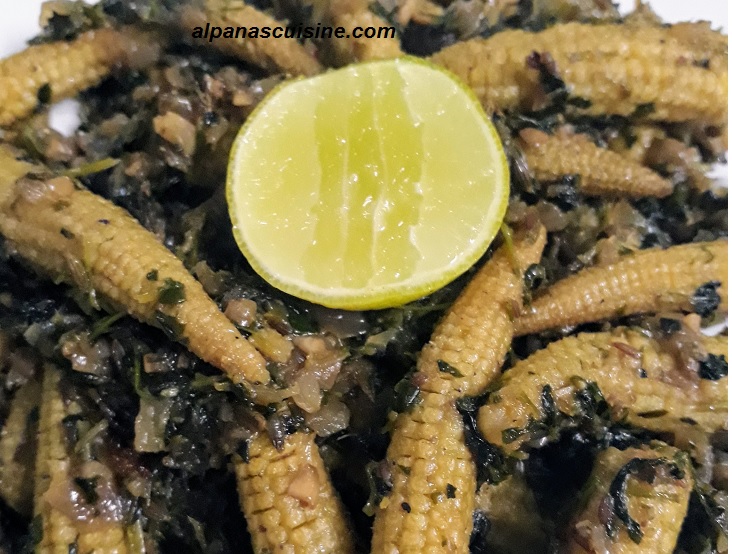 METHI MAKAI
Methi Makai(Baby Corn) is  North Indian Side dish. Methi leaves(Fenugreek leaves) are very well liked by Indian in their native cuisines and almost treated as a wonder component of Indian food preparation. Baby corn has lower carb count then normal corn by  rich in fibre and high in potassium and folic acid.When baby corn cooked with Fenugreek leaves and with some herb and spices make it more tasty.
INGREDIENTS :-
Methi(fenugreek) 200 grams
Baby corn 20 /25 pcs
Onion 2 medium (chopped)
Garlic 1 tablespoon (chopped)
Ginger 1 tablespoon (chopped)
Cumin seeds 1 teaspoon)
Fennel seeds 1 teaspoon
Coriander powder 1.1/2 teaspoon
Nutmeg powder 1/4 teaspoon
Clove powder 1/2 teaspoon
Olive oil 3 tablespoon
Salt to taste
Lemon juice
METHOD  :
In a pressure cooker ,place baby corn with 1 cup of water with salt.Give 3/4 whistle, so that baby corn cooked/ soft
Heat the oil in a pan,add garlic stir over on medium heat until it begins to change colours.
Now add ginger stir for few seconds ,then add cumin and fennel seeds,stir for 2 to 3 minutes.Then add onions saute until onions becomes translucent.
Add boiled baby corn,coriander powder and saute till moisture completely evaporated.
Now add fenugreek leaves and stir fry until the moisture completely evaporated.
Add lemon juice and powdered spices and mix well.Turn off the flame.
Sprinkle lemon juice and serve hot.